Race Car Driver Jessi Combs Dies in a Crash while Trying to Break her Own Record
Published 08/29/2019, 4:09 AM EDT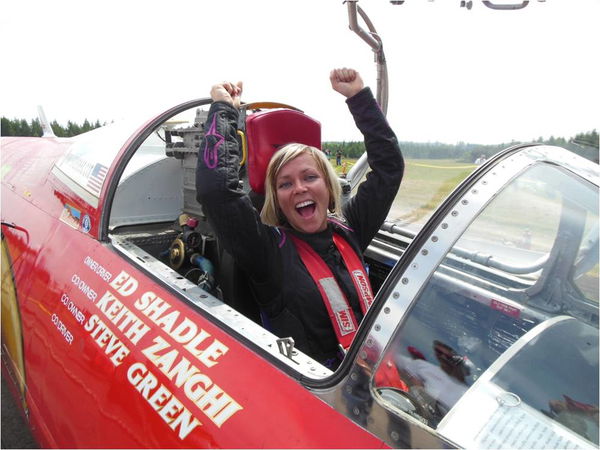 ---
---
American professional racer and television host Jessi Combs, on Tuesday, was killed in a high speed crash while she was attempting to set a new land speed record.
ADVERTISEMENT
Article continues below this ad
Though the details of the crash are not yet released, her family, in a statement, confirmed that she went to a dry lake bed in Oregon, where she was involved in a fatal crash.
The statement released by her family read, "It is with extreme grief, and in celebration of her life that her family and close friends share that race car driver, and TV personality Jessi Combs, passed away in a fatal crash, where she was pursuing a land speed record in the North American Eagle on August, 27th 2019 on a dry lake bed in Oregon. The details of the crash have not been released at this time."
ADVERTISEMENT
Article continues below this ad
Her family, in grief, remembered her as a woman with a "bright smile" and described her as "dreamer with bravery".
Jessi was known for her bright smile, positivity, and tenacious pursuit of the fulfilment of her dreams," the statement read. "Her drive was infectious, and she served as a role model for young Girls, and Women around the world. People that loved her and followed her became family, all bonded together by adventure and passion. Her fans adored her, and she lived to inspire them."
Combs, 39, earned the title of 'fastest woman on four wheels' in 2013, when she broke a 48-year old land speed record with an official run of 398 mph at a top speed of 440 mph.
"Jessi's most notable dream was to become the fastest woman on Earth, a dream she had been chasing since 2012. Combs was one of the rare dreamers with the bravery to turn those possibilities into reality, and she left this earth driving faster than any other woman in history," the statement continued.
"Surrounded by her family and friends at the time of her passing, Jessi lived fearlessly, and her legacy lives on in the countless lives she touched."
A celebration of Jessi's life is being planned and a foundation is being created to continue her efforts to empower women and young girls to follow their dreams."
Combs joined the North American Eagle Supersonic Speed Challenger team as driver in 2013.  She was the first woman to place at Ultra4's King of the Hammers. She was also the first woman to compete in The Race of Gentlemen, racing a twin-engine 1913 Ford Model T.
ADVERTISEMENT
Article continues below this ad
When not on four wheels, Combs appeared in many popular TV Shows like Spike TV, Extreme 4×4, 1001 Car Things To Do Before You Die, All Girls Garage, How to Build… Everything in 2016.
Combs' team member Terry Madden took to Instagram to express her grief.
"I don't know how to say any of this but it all needs said. I have never loved or been loved by anyone as much as this amazing woman @thejessicombs she was truly my unicorn and I enjoyed every single minute that I had with her. She was the most amazing spirit that I have ever or will ever know," she wrote on Instagram.
ADVERTISEMENT
Article continues below this ad