Rafael Nadal Battles Through Diego Schwartzman to Reach French Open 2021 Semifinals
Published 06/09/2021, 12:18 PM EDT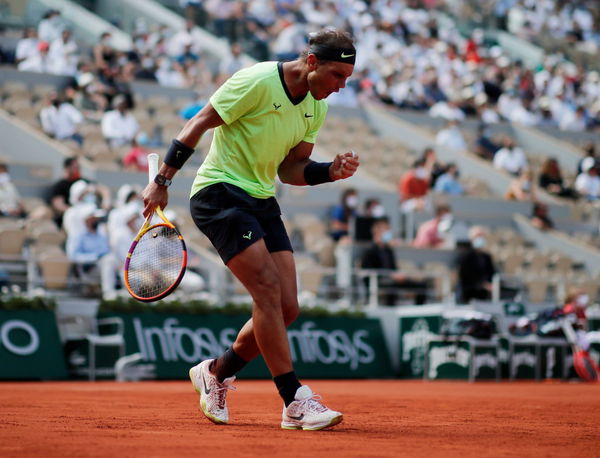 ---
---
Rafael Nadal was made to work hard to come out victorious against 10th seed Diego Schwartzman in the quarterfinals of the French Open 2021. Schwartzman broke Rafa's 36 consecutive set winning streak by winning the second set in the match, however, he couldn't match the 13-time champion's intensity.
ADVERTISEMENT
Article continues below this ad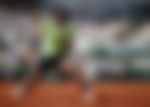 Rafael Nadal just ahead of Diego Schwartzman at French Open 2021
ADVERTISEMENT
Article continues below this ad
From the start of the match, Schwartzman was going along with Nadal. His forehand was targeting Nadal's backhand. But Nadal was also solid early on with his returns and the first set was evenly poised at 2-2. There were some scintillating rallies as Nadal led, 3-2.
Schwartzman's backhand can get inconsistent. And hence he had one slip and Nadal pounced to break the Argentine, 4-2. But Nadal's inconsistent first serves paved the way for Schwartzman to get the break back. But in the next game, Schwartzman was again threatened. The Argentine rallied back from 40-0 to make it 40-40 with some brilliant forehands. However, he was a little too eager and gave a break back to Nadal, 5-3. From here, Nadal took the opening set, 6-3.
Diego Schwartzman stuns Rafael Nadal
In the second set, Schwartzman made more entries towards the net. This set had many world-class rallies, and Schwartzman was dominating most of them. He was judging Nadal's strokes very well and earned a deserved break at 1-0. He led 3-0 and looked imposing on Nadal.
However, like in the first set, Schwartzman had a slip-up, and quickly in less than 10 minutes, Nadal was back level, 3-3. Schwartzman later maintained his level, as he judged and hit a few good volleys as Nadal wasn't challenging his serve anymore. Nadal was feeling the pressure while serving at 4-5. He hit a few double faults and tried an uncanny lob while facing a set point. Rafa didn't connect that lob and Schwartzman leveled the match with the second set, 6-4.
A gritty set for Nadal
After a bad end to the second set, Nadal was rattled in the third set. His serve did improve, however, he wasn't troubling Schwartzman's serve. Nadal was on damage control and limited his errors. Schwartzman was also matching the Spaniard as the set was at 2-2.
At, 3-2, Schwartzman read Nadal's three consecutive overhead smashes to win a brilliant rally. However, Nadal had enough to stay in the third set. At 4-4, Nadal changed gears quickly as Schwartzman was caught. Nadal finally broke the number 10 seed and served for the set at 5-4. He picked up the third set with ease, 6-4.
ADVERTISEMENT
Article continues below this ad
Ruthless Nadal
The fourth set was one-sided, as Nadal was in his rhythm. Rafa won 11 points in a row as he broke Schwartzman twice and led, 3-0. Rafa was dominant now in every department as Schwartzman lost his steam quickly. He increased his lead to 4-0.
Nadal's forehand was firing as he looked to bagel Schwartzman. And he just did that to reach his 14th Roland Garros semifinal in four sets. The scorecard read – 6-3, 4-6, 6-4, 6-0.
ADVERTISEMENT
Article continues below this ad