Why Rafael Nadal should consider axing Uncle Toni
Published 07/20/2015, 4:17 AM EDT

Follow Us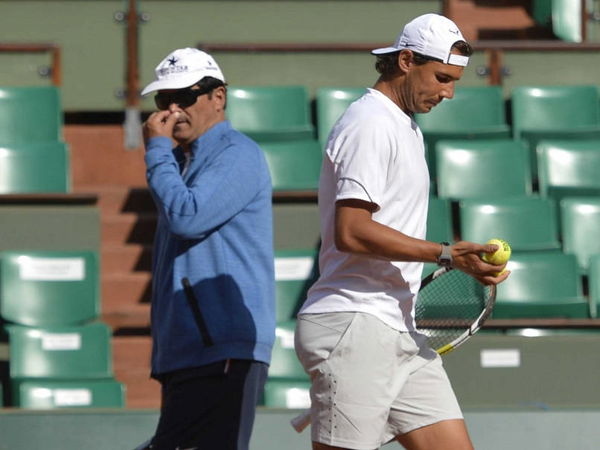 Rafael Nadal, two-time Wimbledon champion, 14-time Grand Slam winner and long-time world number one, has been literally vanquished again in the Men's Tennis circuit. The Spaniard was ousted from the Wimbledon for the fourth successive time this month after losing to the dreadlocked Dustin Brown, his fourth such annihilation at the All England Club to a player ranked 100 and lower.
America's Favorite Video Today
He may not be the best at the Grass court competitions but this particular upset against Dustin Brown was followed by quarter-final exits at the Australian Open and more surprisingly at Roland Garros, where he lifted the trophy for a record nine times.
As it has been the normal scenario in such cases, the first casualty appears to be the coach. 'But, is a new coach the only available solution', this is the question that first comes into every ardent Tennis fan's mind when reminded about Rafael Nadal's decline. Obviously it's tough to part ways with the person who's coached you your entire life, especially when that person is your uncle.
ADVERTISEMENT
Article continues below this ad
Even the great John McEnroe has urged Rafael Nadal to sack his Uncle Toni as his coach if he wants to regain his former glories.
"I know that he has had other people like Carlos Costa and they have tried to gently persuade Uncle Toni [to change]. He has done a magnificent job since he was a little kid and told him it was a good thing to go left-handed – but clearly at this stage it would appear that some fresh ideas would be in order." When he was told by his co-presenter that he was being diplomatic, McEnroe replied: "I'm saying get a new damn coach!"
Rafael Nadal may have hampered his chances due to his dodgy knees in 2012 and 2013, but in the recent times he claims that he has no problems at all with his knees. And yet he hasn't been the same player that he used to be. Here are few instances that will make you give your assent on what John McEnroe had earlier said.
Rafael Nadal: "If I don't win, life continues"
When asked if his recent struggles have led him to consider a split from his coach, Toni Nadal. "I won with him all my life," he said. "I have had the same team for all my career. I cannot predict tomorrow, but my coach is more my uncle than my coach. Family is more important than tennis. If things don't go well, it's not because of the coach. The fault is mine because I always have support."
Nadal added that he would never consider axing his uncle. "No. It's not only my decision," he said. "That's a decision of two people, not only one. Don't forget that Toni is more my uncle than my coach. If in any moment of my career I change some member of my team, it will not be because I am losing or winning," Nadal added. "It will be because there is not enough motivation for one another. And I don't think my career is a bad career," he said. "If I'm not playing that good today, it's not because they're not doing the right job. I don't know if I will be with my uncle until I finish my career because I don't know what's going to happen tomorrow," Nadal added. "I cannot predict what will happen tomorrow. But I'm not thinking about changing my coach today."
He had said this himself; looking at the present scenario in Rafa's career, there seems to be a lack of motivation. He actually agrees to the fact that he is in the stage of decline. Whereas, Roger Federer has defied odds at 33, to recently power his way to the Wimbledon 2015 final. Rafael Nadal should look towards Federer rather than accepting the fact that he obviously isn't as good as he previously was.
Easier said than being done!
Open criticism on Rafa's play
It is true that coach isn't responsible for just the physical preparation of a player. It's also his job to help his player through the mental struggles. When it comes to encouraging his player (publically at least), Toni Nadal seems to be a harsh coach in tennis. He blurts his feelings and criticisms about Rafa's play and results quite publically. At this year's ATP final at Madrid, where Rafa won after Kei Nishikori, who was leading by a set and a break, hurt his back and was forced to retire.
"We don't deserve the victory, (Nishikori) deserves it, he played better than us the whole time. We had a lot of luck today. We didn't really come back, he was hurt. After the early breaks, (Nadal) got tense and his opponent played at a great level".
No matter how much mentally strong Rafa is, comments like that hurt. And after a period of time, one starts to believe those. Rafael Nadal admitted recently that his head hasn't been entirely there while playing. He continued by saying that he needed to improve his mental fortitude. Toni Nadal may actually be right about Rafa getting lucky against Nishikori; However, even if that was the case and Rafael Nadal knows it, he doesn't need Uncle Toni to publically rub it in. As a coach, it's Toni's job to encourage Rafa and try to fix the mental problems Rafa is having. He didn't believe that Rafa could have found a way to win. He may have been right, but it was the wrong thing to say because it shows that lack of faith in your player.
Comments on Rafael Nadal's struggle against Novak Djokovic
ADVERTISEMENT
Article continues below this ad
During the 2011 season, it seemed like there is nothing Rafa could do to beat Djokovic. Instead of encouraging Rafa and trying to work on a way to beat his opponent, Toni Nadal publically stated that Djokovic was the better player and Rafael Nadal wasn't capable of beating Novak at that moment. This is got to be a definite blow to Rafa's morale at a declining stage of an illustrious career. And it is hardly surprising that it took so long for Rafael Nadal to break Djokovic's dominance over him.
Toni Nadal's stubborn attitude
ADVERTISEMENT
Article continues below this ad
After Rafael Nadal's opening match at the 2010 US Open, which Rafa won in three sets which included two tiebreakers, Toni started yelling at Rafa after the match about how he failed to execute their strategy. Rafael Nadal is known to have a composed nature, however, he stood up for himself and told his uncle to back off. At this point, Toni told Rafa that if he didn't want to listen to him anymore, then he would quit and stormed out of the dressing room. And of course, they didn't split, but Toni came into light as coach known for threatening to quit if Rafa questions what he does. Their relationship certainly doesn't seem to be built on mutual respect; It looks more of fear!
Rafael Nadal is going to have to choose between sticking with his coach and subsequently slipping into decline, or parting ways and bringing in a new coach who could find a way to keep him at the top of the game. There's no denying that Toni Nadal has done great things for Rafael Nadal, but he seems to be running out of ideas and he's doing more harm than good. It's definitely the time for a new person to fire up the Spanish bull that has gone into a slumber.
Providing feedback will help us make your experience better.
Enjoyed Your Read? Let us know how likely you are to recommend EssentiallySports to your friends!