Rafael Nadal Destroys Stan Wawrinka in Mutua Madrid Open 2019 Quarterfinals
Published 05/10/2019, 4:13 PM EDT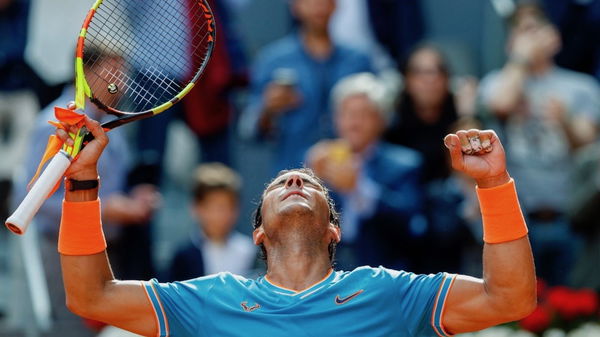 ---
---
The 21st meeting between Rafael Nadal and Stan Wawrinka took place at the quarterfinals of Mutua Madrid Open 2019. With the Spaniard on his way to bag, his sixth title in Madrid played two comfortable matches in the Spanish Masters this year. And the 2013 finalist in Madrid, Stan Wawrinka did not drop a set at Caja Magica this year before his encounter against Nadal.
ADVERTISEMENT
Article continues below this ad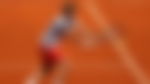 With both the European men taking the court at Caja Magica, the 'King of Clay', Rafael Nadal defeated Wawrinka 6-1, 6-2 in the last eight round. With Roger Federer and Belinda Bencic knocking out earlier today, the distress for Swiss tennis in the Spanish capital continued with Wawrinka's defeat. 
ADVERTISEMENT
Article continues below this ad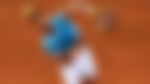 The Master of Mud, Rafael Nadal will next play the Greek, Stefanos Tsitsipas who took out the defending champion, Alexander Zverev, 7-5, 3-6, 6-2 in another quarterfinal match.
Nadal* 6-1 6-2 Wawrinka
The 'King of Clay' serving for the semifinals in Madrid and Stan incessantly made unforced errors and sealed the match by serving to love in the end game.
Nadal 6-1 5-2 Wawrinka*
His lethal forehand and the amazing drop shot awestruck his countrymen in the house and the stadium hummed 'Vamos Rafa'. Stan took the game to deuce with his serve, but Rafa being Rafa refused to give up the game as Stan was chaotic with his backhand.
Nadal* 6-1 4-2 Wawrinka
After Stan dropping the game, Nadal was unblemished with his net game and showered few smashed on the Swiss' arena. Rafael Nadal has just committed five unforced errors until now. Later took the game with a crosscourt backhand which Stan failed to return.
Nadal 6-1 3-2 Wawrinka*
Wawrinka refusing to come to the net and played baseline tennis, he gave Nadal three break points again and he got into the net and placed a drop shot. With Wawrinka saving all three of them with impeccable serves and then gained an advantage by playing a net game. Good tennis from Stan but Rafa's backhand winner took that away from Stan. Nadal got the game despite the Hawkeye showing the ball to be in as the umpire's call is meant to be the final one.
Nadal* 6-1 2-2 Wawrinka
The Spaniard, Rafael Nadal gets the first point of the game as Stan is inaccurate with the return. And sprinted to take a 40-0 lead over the Swiss. Then Rafa played a magnificent forehand winner from the net.
Nadal 6-1 2-1 Wawrinka*
Wawrinka struggling to add points in his account in the quarterfinals gave Rafa two break opportunities, but soon vanished them as Rafa's backhand goes wide. Then served an ace for advantage, and another brawny serve for the game.
Nadal* 6-1 1-1 Wawrinka
Rafael Nadal dictates his service game with unplayable forehands and smashed a ball on Stan's court. Then held his serve to love as Stan extends a return.
Nadal 6-1 0-1 Wawrinka*
'Stan The Man' on serve, till now he has won just four points on his serve. This time he made a hold with an inside out forehand and Nadal making a few mistakes.
Nadal* 6-1 Wawrinka
Serving for the opening set, that it seemed to be on Rafa's racquet. The World Number two tennis player netted the ball on the net and set the game score to 15-15. Stan's stroke went haywire as Nadal place a backhand on his forehand side. Later slammed a banana forehand to earn the set point and sealed the first in 25 minutes as Wawrinka places the ball outside.
Nadal 5-1 Wawrinka*
With Wawrinka serving and packed Manolo Santana cheering for their Masters of Mud, Rafael Nadal broke Stan to love.
Nadal* 4-1 Wawrinka
Wawrinka earns a point as Rafael Nadal flaws with his lethal forehand weapon and later took the game with a forehand drop shot.
Nadal 3-1 Wawrinka*
Wawrinka widens a forehand on the first point, and Nadal's lasso was too strenuous to play. And later raced to take three break points and broke the Swiss to love.
Nadal* 2-1 Wawrinka
Wawrinka replied to Nadal's back with a forehand winner and set the game score to 40-30 lead Nadal on the lead. Later widens a shot and Rafael Nadal sealed the game.
ADVERTISEMENT
Article continues below this ad
Nadal 1-1 Wawrinka*
The Swiss was dominant with his single-hand backhands and made a comfortable hold.
Nadal* 1-0 Wawrinka
ADVERTISEMENT
Article continues below this ad
Wawrinka slams his signature shot of single hand backhand on the Spaniard's court and Nadal's unplayable serve helped him to hold his serve.