Rafael Nadal's Museum Expresses Gratitude to Serena Williams for Her Generous Contribution
Published 01/21/2021, 9:15 AM EST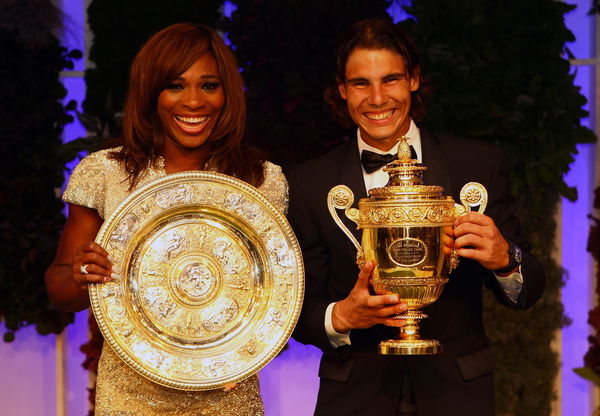 ---
---
Rafael Nadal has created a marvel in the form of his academy. The Rafa Nadal Academy is part of the bigger complex of the Rafa Nadal Sports Centre in his hometown, Mallorca, Spain. The sports center also holds the Rafa Nadal Museum. The museum has on display all of Nadal's trophies, and it also features donations from various of Nadal's counterparts in Roger Federer, Novak Djokovic, etc. It also has a special memento donated by the great Serena Williams.
ADVERTISEMENT
Article continues below this ad
ADVERTISEMENT
Article continues below this ad
The museum has a signed shoe from the 23-time Grand Slam champ, Serena Williams.
"Legend! In the #RafaNadalMuseum you can see objects donated by great tennis legends. Do these shoes look familiar? They belong to a 23-time Grand Slam singles champion. Thank you @serenawilliams," tweeted Rafa Nadal Academy's Twitter account.
Rafael Nadal Museum has racquets from Roger Federer, Novak Djokovic, and Andy Murray
In December 2020, the 'big 4' of tennis was forever preserved in the cabinets of the Rafa Nadal Museum. Tennis racquets of Rafa Nadal, Roger Federer, Novak Djokovic, and Andy Murray are placed alongside each other in a cabinet at the Rafa Nadal museum, symbolizing their legacy.
Further to remember the Wimbledon 2008 final, Rafa Nadal Museum also has the outfits that Rafa and Federer wore in the final.
The Rafa Nadal museum also has a signed jersey from Michael Jordan
In addition to all the iconic tennis collections, Rafa Nadal Museum has several soccer and basketball shirts. Notably, he has signed a basketball shirt from the legend, Michael Jordan. Further, he also has a shirt from Spanish basketball legend Pau Gasol.
ADVERTISEMENT
Article continues below this ad
Rafael is an avid soccer fan and thus has a plethora of soccer shirts signed by different legends, including the likes of  David Beckham, Leo Messi, Cristiano Ronaldo, among others. He even has the replica of the UEFA Champions League title won by Real Madrid.
Rafa also has a replica of the Renault R25 used by Spanish driver Fernando Alonso to win his first Formula One championship in 2005. The list is endless and the museum will continue to grow not only with Nadal's career but also with various other sporting icons of the world.
ADVERTISEMENT
Article continues below this ad