"Rafael Nadal Will Win a Grand Slam a Year at Least" – Andy Roddick
Published 06/07/2020, 10:43 AM EDT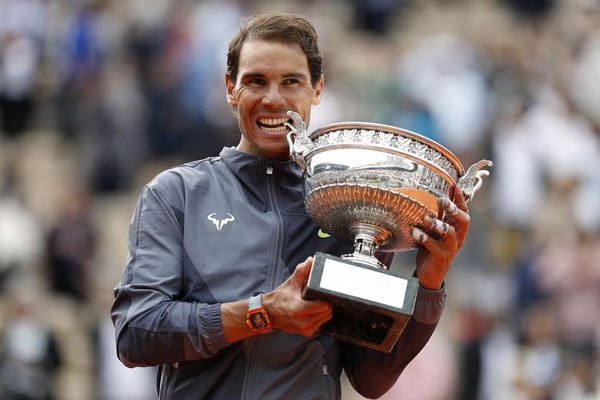 Spanish superstar Rafael Nadal has been one of the most successful tennis players of all time. He has set so many records and has won 19 Grand Slams throughout his career. And according to former world no.1 Andy Roddick, he will continue to win more every single year. Check it out.
Andy Roddick On Rafael Nadal
ADVERTISEMENT
Article continues below this ad
In his talk with Tennis Channel, Andy Roddick said a lot about Rafael Nadal. One of those things was about Rafa's scheduling and how he has changed it where Roddick said,
"Rafa is fine playing 10-12 events a year, making sure he is up for the French, getting his matches in, playing the Masters Series events on clay. Going into the US Open with very few hardcourt matches, Rafa feels comfortable about it. I think that he used to feel the desperation to take reps on surfaces that weren't clay and now he is comfortable enough at the ripe old age of 34 to kind of go and trust the process."
ADVERTISEMENT
Article continues below this ad
He then went on to talk about how Rafa does not play his best in the first few matches at the US Open and said,
"He is going to have to grind through the first couple of rounds to gain form. But then once he does that, he is a legitimate contender at any Slam. As long as Rafa is healthy, you got to think he'll win one Slam a year at least."
ADVERTISEMENT
Article continues below this ad
Coincidentally, Rafa actually holds a record that is related to one Grand Slam a year. He has been the only man to win at least one Grand Slam a year for 10 consecutive years. This streak started when he won his first Grand Slam in 2005 and ended in 2014.
This is just one of the few amazing records that Rafa holds but is an amazing one. He will now be looking to set another record which is the record for the most Grand Slams. He just needs one to equal it and he will definitely do it once the ATP returns from its suspension in August.