Ragnar Klavan may prove Liverpool's unlikely defensive rock
Published 08/20/2016, 4:56 PM EDT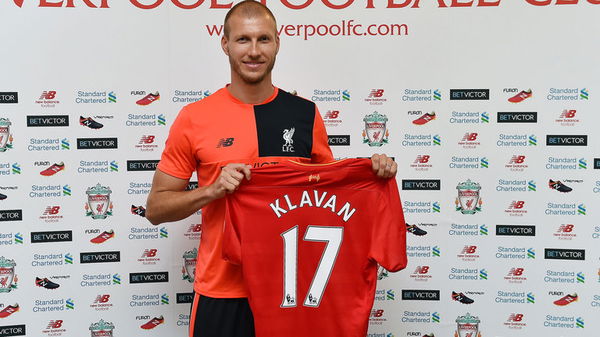 ---
---
In many ways, the opening day win over Arsenal at the Emirates Stadium perfectly represented everything that is right and wrong with the Liverpool of the 2010s. Whirlwind attack was matched by careless defending as the Reds scored four goals away from home but let in three. The defence has undergone major surgery in 2016, and Ragnar Klavan is the least heralded, though potentially most important, an incision made in the flesh of the backline.
ADVERTISEMENT
Article continues below this ad
*
It was bookended by two anomalous seasons of 41 and 35 goals respectively, but Rafa Benitez's time at Liverpool brought a consistency to the defence that has made itself scarce in the years since. A shuffling cast of defenders and a lack of leadership at the back have been recurring issues; just when Dejan Lovren and Mamadou Sakho looked to be establishing a defensive partnership for the long term, the French defender was hit by allegations of doping, suspension, injury and an apparent falling out with his  manager.
ADVERTISEMENT
Article continues below this ad
Jurgen Klopp's attempt to mend the defence left behind by his predecessor – a backline that let in 141 goals in Brendan Rodgers' three full Premier League seasons – was two-pronged. Firstly, Klopp breathed new life back into Lovren. The Croatian had become a much-maligned figure under Rodgers, and his £20 million price tag only seemed to magnify his flaws.
Secondly, and more importantly, recruitment aimed to capture those players who embodied all the virtues of old-school defending, seeking to erase the brittleness and capacity for self-destruction that Liverpool's defence never seemed to get rid of. Safety was in, rash challenges were out. Consistency was in, the ability to support the attack was out. Reliability was in, ball-playing skill, it seemed, was out.
Nathaniel Clyne typified this approach to restructuring the defence. The sale of Martin Skrtel did the same. After his display against Arsenal, it appears the purchase of Klavan has performed a similar function.
*
It is ironic that a defender's initial assessment is positive even though his team let in three goals in his first game. It is precisely what happened with Klavan, however. The Estonian exuded a sense of confidence and calm authority in the heart of an often rickety Liverpool defence, and the goals could truly not have been said to expressly be his fault.
Klavan's style is simple, and he is acutely aware of his strengths and limitations and the need to minimise possibilities of an error. His passing is short and direct. His clearances and repelling headers are booming and authoritative. He has restored stability to an often chaotic backline. Liverpool now have a defender who makes the most effective decision under pressure.
Granted, Klavan is not the most obvious solution to defensive problems long term. Although Klavan seems to represent the good side of Klopp's fishing in his native Germany for transfers – talented players at cheap prices – at a cost of £4.2 million, it is important to remember he was viewed as little more than the defensive cover.
Injuries come at the right time for no club, but some players are benefited more than others. For a Liverpool side still waiting on the fitness of defenders such as Sakho and Joe Gomez, a gap opened up in central defence that Klavan has wasted no time in filling to great effect.
What role is Klavan to play at Liverpool in the coming months? If he can maintain this level of performance, it would be unfair to ignore Klavan's meritorious claims to a starting berth. It is fair to assume that Lovren will be a granted a long rope and a position in the starting lineup for his rapid improvement under Klopp.
The second slot is more contentious. New recruit Joel Matip was certainly purchased with a view to a long-term solution, and it is with him and Sakho that Klavan can realistically be expected to compete for a place in the starting XI.
*
Another weakness in Liverpool's defence is rather well-publicised a left side. Alberto Moreno's errant defending has drawn the attention of many, and he is overwhelmingly (perhaps unfairly) regarded as the sole impediment to Liverpool's ambitions this season. A weak link that needs to be replaced if Liverpool are to make genuine progress defensively.
The parade of replacements proposed for the Spaniard is interesting. Most bear the look of stopgap solutions – James Milner, Gomez (once fit), Klavan himself. Although the former Augsburg man can indeed play this role, it is far from a complete solution.
Klavan's ability to think one step ahead of his opponents and defend proactively has made up for his shortfall in pace. The demands of a fullback are entirely different however, and as safe as Klavan is, he is not the answer.
ADVERTISEMENT
Article continues below this ad
*
When Sami Hyypia signed for Liverpool in 1999, he was an unknown, but over the following decade proved to be one of the club's shrewdest investments in the transfer market. It's easy to see the similarities between the Finn and Klavan. Solid, dependable defenders with an eye for reading the game and whose 'footballing' youth was behind them when they came to Anfield, but who proved spectacular successes nonetheless.
It is unreasonable to draw conclusions on the basis of one game, so the best move is to see if Klavan can maintain consistency. He will be 31 in a couple of months, and does not, at first, look to be cut out for a long career on Merseyside. But if his spiritual predecessor Hyypia's story is anything to go by, the signs are encouraging.
ADVERTISEMENT
Article continues below this ad
It was with Benitez's arrival in 2004, with his 31st birthday upcoming (like Klavan), that Hyypia embarked on what was, defensively speaking, the most consistently rewarding spell of his career.
Partnering Jamie Carragher in a formidable defence, Hyypia was part of a settled backline that allowed the opposition only 25, 27, 28 and 27 goals in the league in four consecutive seasons. If Klavan can manage even half that success, he could consider his spell at Liverpool a fruitful one.