OTD: Raikkonen knows what he is doing
Published 11/04/2018, 11:42 AM EST
---
---
Kimi Raikkonen is one of F1's most vibrant characters, though he is not so expressive. He is what we call a subtle customer- one who gets the job done without much fanfare and has built a cult fan-base because of this very nature.
ADVERTISEMENT
Article continues below this ad
Raikkonen is known for his bluntness and 'I don't care' attitude, which has endeared him to fans and pundits alike. However, we are not so sure about the people on the receiving end of his curt and direct replies, who is more often than not his race engineer.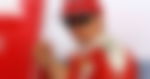 On this day in 2012, Raikkonen was driving for Lotus in the Abu Dhabi Grand Prix. He had just returned to F1 after leaving in 2010, after a two-year hiatus. The title race was being contested by Vettel and Alonso, driving for Red Bull and Ferrari respectively.
ADVERTISEMENT
Article continues below this ad
Lewis Hamilton qualified on pole for McLaren, in the midst of an inconsistent season for the Brit, while Vettel started from the pitlane after being disqualified for not having enough fuel in the car. Raikkonen started in fourth, in a surprisingly quick Lotus car. He jumped Webber at the start and slotted in at second behind Hamilton.
Hamilton's indifferent season continued as his McLaren engine gave way, which gave the lead to Raikkonen, who had been able to maintain his second position since Lap 1. He was being caught by Alonso, which his engineer tried to inform him about. But Raikkonen didn't want to lose his concentration with needless talk.
ADVERTISEMENT
Article continues below this ad
He immediately piped up and said, "Leave me alone, I know what I'm doing!". However, his engineer did not seem to take the hint and again tried instructing him to keep up his tyre pressure and an exasperated Raikkonen came out with another classic line.
"Yes yes, I'm doing that all the time, you don't have to remind me every 10 seconds," he retorted. And he indeed knew what he was doing as he timed his pit-stop to perfection and emerged in the lead once again, winning his first F1 race since 2009 with Ferrari.
Check out the video here:
ADVERTISEMENT
Article continues below this ad