Raina- Is he the new trump card for India??
Published 08/30/2014, 7:18 AM EDT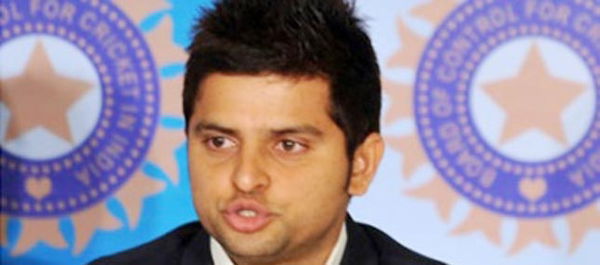 ---
---
Aggressiveness defines this batsman. The guy that backs himself to clear the rope every time the ball is over pitched. Records might not tell the same story but once he is set, the opposition is in danger. Suresh Raina who made his debut against Sri Lanka in 2005 has gone through many ups and downs but he has emerged as one of the batsman who will prove vital in India's success in the upcoming ICC Cricket World Cup 2015.
ADVERTISEMENT
Article continues below this ad
In 2011, Gary Kirsten, the then coach of India, said 'Raina won the world cup for us with some crucial knocks'. This statement would have surprised many after he was on the bench throughout the first half of the tournament. This remained so until the group game against West Indies, which Raina played in place of an injured Virender Sehwag. Against defending champions Australia in the quarter-final, Dhoni made a strategic change, omitting Yusuf Pathan in favour of Raina. Raina responded well by assisting Yuvraj Singh in a successful run chase through high pressure, making 34 from 28 balls to carry India to victory. In the semi-final against Pakistan, he batted with the tail-enders to score an unbeaten 36, a significant contribution to India's final tally of 260. Suresh Raina played some crucial knocks which helped India in winning the World Cup.
ADVERTISEMENT
Article continues below this ad
A lethal No.5 batsman, a handy off-spinner and a superb fielder-what else would you ask from a player. Talking about No.5 players from top teams, Raina has the potential to overshadow big hitters like Glenn Maxwell (Australia), Eoin Morgan (England), David Miller (South Africa) and many more. He might be considered as a 'Lamb outside Asia', but his recent hundred against England show his capabilities. It was a perfect No.5 innings. Calm when needed and fire at the right time defines the batting style of Raina.
ADVERTISEMENT
Article continues below this ad
Raina does the small things well. He backs up throws; he dives around every given opportunity; he enjoys fielding; he gives Dhoni a few miserly overs, which is why he is in the team playing ODIs outside Asia. For the big things- the runs- If he can keep performing consistently at No.5, he can be the hero of 2015 ICC Cricket World Cup.
ADVERTISEMENT
Article continues below this ad
Will Raina continue to lead the onslaught, Time will tell…