Ranieri ready to pop champagne as Leicester hit 40 points
Published 01/03/2016, 3:00 PM EST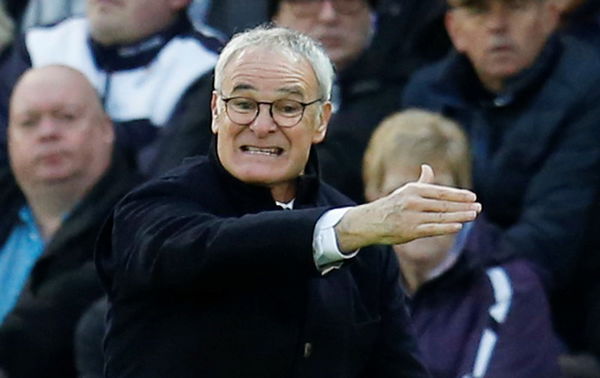 ---
---
LONDON (Reuters) – Leicester City manager Claudio Ranieri prepared to pop the champagne corks on Saturday despite a missed penalty in a goalless draw at home to 10-man Bournemouth.
ADVERTISEMENT
Article continues below this ad
All season the Italian has stuck to his mantra of needing 40 points to secure survival, even when Leicester were leading the Premier League, and the first game of the New Year hit the target.
"When you have a chance to score and didn't score that is not good but we reacted very well. We tried to do our best and tonight it wasn't possible but I'm so pleased with our performance so far," he told Sky Sports television.
ADVERTISEMENT
Article continues below this ad
"Forty points was the first goal, we achieved this. Well done to my players — and champagne."
The Foxes, whose transformation from relegation strugglers to leaders has been the talk of the season, fell two points behind pacesetting Arsenal, 1-0 winners against struggling Newcastle United.
Leicester have not scored now for three successive matches.
Jamie Vardy, who set a Premier League record earlier in the season for scoring in 11 consecutive games, hit the post while Algerian midfield maestro Riyad Mahrez had a penalty saved in the 59th minute.
Bournemouth captain Simon Francis was sent off moments earlier for bringing down Vardy on the edge of the area, with manager Eddie Howe complaining his man had tackled fairly and played the ball.
Despite statistics showing Leicester had 16 shots to the visitors' nine, Bournemouth held on.
"We knew it was a difficult match and we started playing too late. Bournemouth moved the ball very quickly but in the second half we were much better," said Ranieri.
"We hit the post, we missed a penalty and had some good chances. We have not scored for three games but we have had chances.
"Sometimes everything is right but now some things are wrong. The performance was good, a fantastic effort," added Ranieri.
ADVERTISEMENT
Article continues below this ad
Asked what his next target would be, the Italian's words had a familiar ring to them: Another 40 points.
"I said at the last press conference, we achieved 39 points and everybody wants to improve. I know it is very difficult to do this but we try. So 39 the first half of the season, 40 in the second half of the season," said Ranieri.
"Why not? We must try. The Premier League this year is very crazy. We achieved, we are safe and then we try."
ADVERTISEMENT
Article continues below this ad
(Reporting by Alan Baldwin, editing by Tony Jimenez)