Ratchet and Clank: Rift Apart PS5 Release Date Announced
Published 02/11/2021, 3:24 PM EST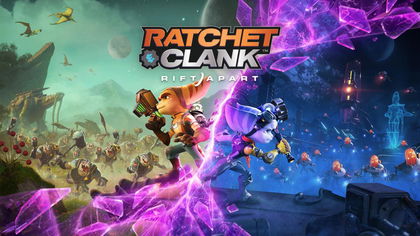 ---
---
Ratchet and Clank is one of the oldest and longest-running franchises of PlayStation-exclusive titles. The series has spanned for over 19 years across four generations of PlayStation consoles. The latest released title of the series helped show off the powerful hardware and seamless gaming experience on the PS5, prior to its launch. Now, finally, players can experience this title on their PS5, as Insomniac Games has finally announced a release date for the title.
ADVERTISEMENT
Article continues below this ad
Insomniac Games announced this exciting news on its official Twitter handle.
ADVERTISEMENT
Article continues below this ad
Ratchet and Clank: Rift Apart will be a brand-new full-length adventure. Here is what the official announcement post says about its storyline:
"When the evil Dr. Nefarious uses a device that can access alternate dimensions to find a galaxy where he always wins, Ratchet and Clank are separated. As they try to re-unite, they will meet a new Lombax resistance fighter, explore new and familiar locales (but with new dimensional twists!), and wield a whole new arsenal of out of this world weapons."
Further reading: GTA V Weekly Update Introduces Three Times Rewards For Special Valentine's Day Themed Quests
Ratchet and Clank: Rift Apart is finally coming to PS5 this June!
If you have never played a Ratchet and Clank title before, this title will be an excellent choice to introduce yourself to the franchise. This is according to Marcus Smith, the Creative Director of Insomniac Games. However, he adds that the game has more in store for long-time fans of the series. Those who have played the other titles in the series will find deeper layers of connection to previous games.
In addition to this, the game has two really cool rewards for those who will pre-order the game. And yes, these are major Easter eggs from the previous titles in the series.
"That's right, two fan-favorites will make their way into Ratchet & Clank: Rift Apart that players who pre-order will be able to unlock early. The Carbonox armor from Ratchet & Clank: Going Commando (2003) is now updated with high-definition materials, lighting responses, and ray-traced reflections.
ADVERTISEMENT
Article continues below this ad
Players who pre-order will also receive an early-unlock of the Pixelizer weapon, the retro-blaster from Ratchet & Clank (2016), also updated visually for the PS5 console."
Furthermore, those who pre-order the game will also receive: 5 additional armor sets, 20 Raritanium to get a head start on upgrading your weapons, a sticker pack to use in Ratchet & Clank's first-ever photo mode, as well as a digital artbook, and a digital soundtrack.
The digital edition of this PS5 title is already available for pre-order on the PlayStation Store. Note that if you pre-order the digital version, you will receive the items automatically. However, in case you purchase the physical copy of the game, check whether the retailers are offering the same.
ADVERTISEMENT
Article continues below this ad
So, what are you waiting for? Grab your copy now!