Raul ready to cap career with US championship win
Published 11/14/2015, 2:01 AM EST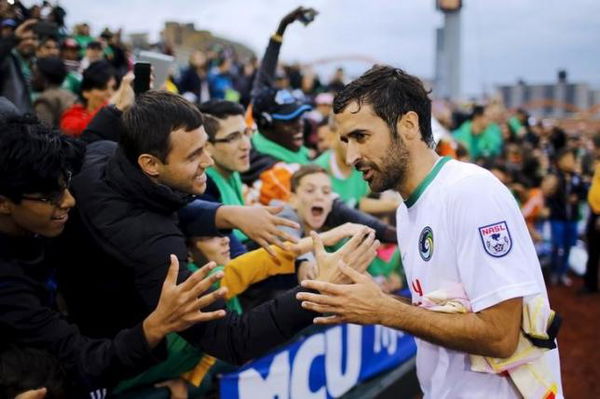 ---
---
NEW YORK (Reuters) – Former Spain international Raul could be just 90 minutes from lifting one last trophy on Sunday, capping a remarkable playing career in professional soccer with a win in the North American Soccer League's championship game.
ADVERTISEMENT
Article continues below this ad
Raul launched the New York Cosmos into the final – and postponed his retirement – with a goal in the previous game, a strike that ensured the final against the Ottawa Fury FC will be played in the Cosmos home stadium in Hempstead, New York.
The championship game on Sunday also marks the retirement of Cosmos teammate and former Spain international Marcos Senna.
ADVERTISEMENT
Article continues below this ad
"As coach, you want these players in the final. They've been there before, they know what to do," said Cosmos head coach Giovanni Savarese. "They are great people, great human beings. It's going to be very hard for us to replace them."
Raul, 38, joined the Cosmos in October 2014 after a career helping Real Madrid win six La Liga titles and three UEFA Champions League titles. He also played for German club FC Schalke 04.
Raul, a product of Real Madrid's youth academy, made his debut for Real Madrid's senior team at the age of 17, eventually making 741 appearances and serving as captain from 2003 to 2010.
His professionalism over the last year was an example for younger players, said Cosmos defender Carlos Mendes. "You just try to watch them every day and learn what you can," he said.
ADVERTISEMENT
Article continues below this ad
The NASL is the second tier of professional soccer in the United States, after Major League Soccer. It has drawn interest from recognised soccer stars such as former Italian national team captain Paolo Maldini, who co-owns a Miami team set to play in the league in 2016, and Brazil's Ronaldo, who owns a stake in the NASL's Fort Lauderdale team.
The Cosmos became the first U.S. professional sports team to visit Cuba since U.S. President Barack Obama and Cuban President Raul Castro announced they would seek to restore diplomatic relations severed in 1961.
Ottawa reached the final in the Canadian team's second year in the league, ending the combined spring and fall seasons even on points with the Cosmos.
ADVERTISEMENT
Article continues below this ad
"There's nothing wrong with Raul retiring and us winning the league," said Fury head coach Marc Dos Santos. "We want to make sure it is a big day for the Ottawa Fury."
(Reporting by Padraic Cassidy; Editing by Andrew Both)