Reaction to IAAF suspension of Russian federation
Published 11/14/2015, 2:25 AM EST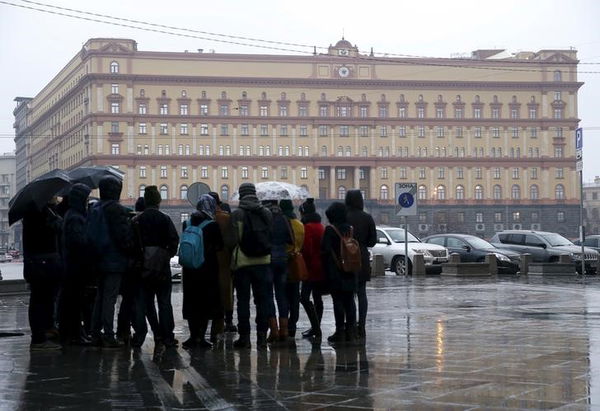 ---
---
LONDON (Reuters) – Reaction to the International Association of Athletics Federation (IAAF) council's vote on Friday to provisionally suspend Russia from the sport for widespread, state-sponsored doping. The ban will include the 2016 Olympics unless the country can demonstrate a major change in their approach and controls.
ADVERTISEMENT
Article continues below this ad
– –
"WADA welcomes the IAAF's decision to declare the All-Russian Athletics Federation (ARAF) non-compliant and provisionally suspend the federation; this was one of the core recommendations in the WADA Independent Commission's Report.

"The decision is positive news for clean athletes worldwide."
ADVERTISEMENT
Article continues below this ad
– Ben Nichols, spokesman, World Anti-Doping Agency (WADA)
– – – –
"Obviously, this is the only outcome acceptable to clean athletes and while it is somewhat promising, the real test now is to ensure full justice and accountability for their actions before being allowed to compete again."
– Travis Tygart, Chief Executive Officer, U.S. Anti-Doping Agency (USADA)
– – – –
"Council examined this matter very thoughtfully, fully aware of the extraordinary action we ultimately decided to take.

"The WADA report was clear in its evidence and unequivocal in its recommendations.

"From Council's perspective, in light of the evidence, suspension was the only proper course of action.

"The IAAF has an obligation to protect athletes, and this action sends a clear message to clean athletes that protecting them and protecting the sport, with a  culture of accountability, is our top priority.

"It is my hope as a Council member that this process also will spur a review of the IAAF governance structure, and that we will act to implement WADA's recommendations of instituting an ombudsman and compliance officer.

"Although this is a difficult time, in the long term, the sport ultimately will be stronger for it."
– Stephanie Hightower, USA Track & Field president and IAAF Council member
– – – –
"Our reaction is calm – we didn't expect anything else.

"This suspension is temporary. A special commission still has to get to the bottom of everything. I'm sure that everything can still be fixed.

"We're ready for the world indoor championships (in the United States in March) if it works out in such a way that we make it. The main thing is the Olympics."
– Russian Sports Minister Vitaly Mutko.
– – – –
"I am sure that Russia will go to the Olympic Games.

"I don't think there is any sense (in an appeal) because today's decision provides a period for additional investigations, and they already must lead to a concrete decision about what period it will happen for.

"If there is something that doesn't satisfy us, then there is sense in talking about an appeal."
Mikhail Butov, General Secretary of the All-Russia Athletic Federation, who addressed the council on Friday but did not vote.
– – – –
"I am glad that the IAAF has suspended the Russian track & field federation from international competitions including the Olympic Games.

"It's important that a strong message be sent as a deterrent to any country involved in "state sponsored' doping and the penalty should be more that a short-term slap on the wrist.

"I also believe there are other countries around the world who have enabled and promoted the use of drugs by their athletes. Hopefully, there will be harsh enough consequences implemented in this case to actually promote significant change."
– Victor Conte, Bay Area Laboratory founder who was at center of United States' biggest doping scandal.
– – –
"The IAAF Athletes' Commission is extremely disappointed and concerned regarding the recent developments and allegations directed at our sport.

"We are angry at the damage being caused to the reputation and credibility of athletics and are united alongside our president to not shy away from the major challenges that face our sport. The athletes will work together to continue the process of cleaning up athletics to ensure those athletes training and competing cleanly are not tainted by the minority.

"We send a clear message to clean athletes in a dirty system to report any doping or cheating that they see or hear about.  We are 100percent in support of President Coe and believe that he is the leader that our sport needs to instigate the necessary actions swiftly and strongly."
Frankie Fredericks, IOC member, IAAF Council member and IAAF Athletics' Commission chairman (in a statement read out to the IAAF Council)
– – – –
"The right decision, time for serious reform and proud to stand behind our Athlete Commission statement.
– Britain's marathon world record holder Paula Radcliffe
– – – –
"The very strong vote of 22-1 in support of the suspension of the ARAF indicates that the newly elected IAAF Council, like Athletics Australia, has zero tolerance for doping in sport. Our expectation is that this will help to ensure the level playing field that all athletes deserve.

"We also welcome the IAAF announcement that the 2016 IAAF World Junior Championships and the 2016 IAAF World Race Walking Cup will now not be held in Russia.

"Consistent with our support of the action taken by the IAAF, Athletics Australia has indicated our interest in bidding, at the appropriate time, to host the IAAF World Race Walking Cup.

"There is much work to be done to ensure that circumstances like this do not arise again and to restore public confidence in the sport of athletics. Today the IAAF Council has taken a vital step in the right direction."
– Athletics Australia chief executive Phil Jones
– – – –
"Canada would be happy, willing and able to host the 2016 World Race Walking Cup."
ADVERTISEMENT
Article continues below this ad
– Tweet by Athletics Canada
– – – –
"Proud IAAF is dedicated to a clean sport. Excited about new leadership and praying the future may be brighter."
ADVERTISEMENT
Article continues below this ad
– Shannon Rowbury, two-time U.S. Olympian, 2009 world 1500m bronze medallist, on Twitter
(Reporting by Mitch Phillips and Gene Cherry in Raleigh, North Carolina, Editing by Greg Stutchbury)