Real's Bale free to play on wing or centrally says Benitez
Published 11/29/2015, 2:08 AM EST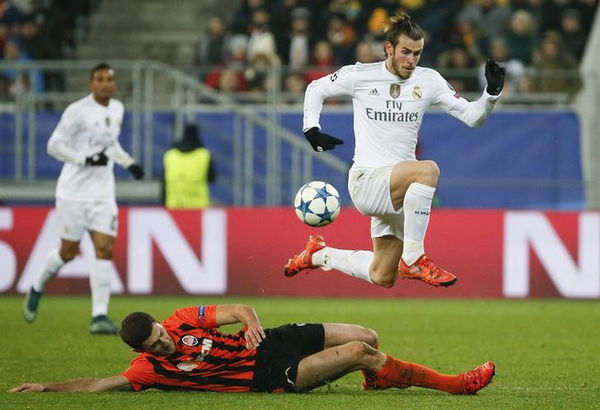 MADRID (Reuters) – Real Madrid's Gareth Bale has mainly played a central role in attack this season but he created more danger on the left wing against Shakhtar Donetsk and coach Rafa Benitez said the forwards are free to exchange positions.
ADVERTISEMENT
Article continues below this ad
The Welshman showed better understanding with Cristiano Ronaldo in the Champions League game on Wednesday and set up two goals for the World Player of the Year in the 4-3 away victory.
Real went into the match on the back of a 4-0 hammering by Barcelona in 'El Clasico' last Saturday, their second straight loss in La Liga to fall six points off the pace set by the Catalan side ahead of the visit to Eibar on Sunday.
ADVERTISEMENT
Article continues below this ad
Bale generally played on the right wing under Carlo Ancelotti and his wish to play through the centre was granted by Benitez but it has rarely paid off in an injury-plagued start to the season.
Against Barca, Bale was unable to get involved in the play, although it was a poor overall performance from Benitez's side, and changes were made against Shakhtar with James Rodriguez, Karim Benzema and Toni Kroos among those losing their places.
"I never said to Bale that he had to play on the left, Cristiano in the middle or Isco on the right. They have liberty to interchange positions. Cristiano and Bale can exchange positions whenever they want," Benitez told a news conference.
"I am quite positive about the way that the team reacted to the (Barca) defeat. We needed to bounce back and that is what happened. We moved the ball well, created chances and scored goals.
ADVERTISEMENT
Article continues below this ad
"We made mistakes after that with two of the goals we conceded coming from deadballs. That is down to a lack of concentration and not difficult to solve."
Real started the season looking very solid defensively, but they have now conceded 10 goals in three games and have injury worries at the back against Eibar with Raphael Varane, Sergio Ramos and Marcelo all injured.
"We will work with the players that we have available and try and get the absentees back as soon as possible," said Benitez.
ADVERTISEMENT
Article continues below this ad
"It is difficult to say how long the players are going to be out as it depends how they respond to treatment but I have full confidence in Pepe and Nacho."
(Reporting by Tim Hanlon in Barcelona; editing by Rob Hodgetts)