Record-Breaker Virat Kohli's 29th Birthday Celebration
Indian skipper Virat Kohli's 29th birthday was today. Despite the Indian team coming up short against New Zealand in the 2nd T20I at Rajkot on Saturday, Kohli had a lot to celebrate. The Indian team members ensured the loss did not take away any shine off their skipper's birthday blast.
As has been the norm within the team for quite some time now, Kohli was smeared with the birthday cake after the cake-cutting. Kohli has had a fantastic year both as a skipper and a batsman. Kohli led the team to a remarkable nine-match winning streak in ODIs, equalling MS Dhoni's record of most number of consecutive wins as captain.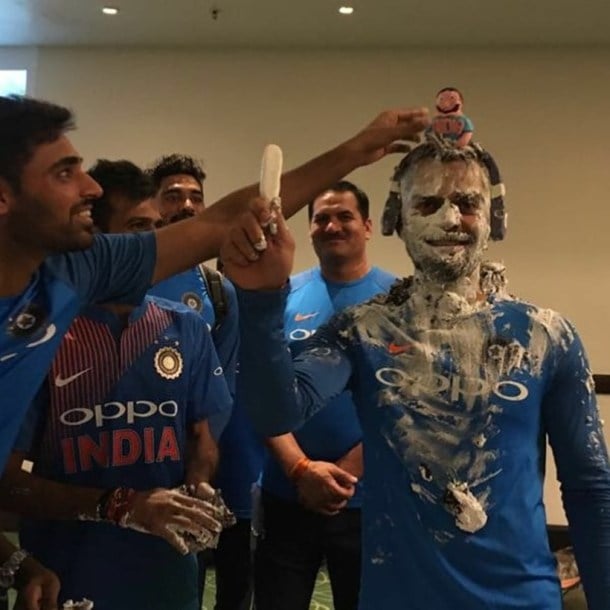 Against Sri Lanka, Kohli became the first Indian captain to tour-wash an opponent as India finished 3-0 in Tests, 5-0 in ODIs and 1-0 in the T20I.
He became the fastest to 9000 runs (194 innings) and sixth Indian to do recently and also toppled Ricky Ponting to become the player with most ODI centuries (32), only behind Sachin Tendulkar (49). With 1,460 runs this year so far, he is also the captain with most runs in a calendar year. After 4-1 ODI series win over Australia, Kohli-led India became the first team to claim the top spot in both Test and ODI rankings.
If you want to sum up Virat Kohli's captaincy so far, especially Test captaincy, in three sentences it would be: He came. He saw. He conquered.
Under Kohli, India has won 19 Tests out of 29 played, which makes him the most successful India captain in terms of win percentage (65.51%), ahead of MS Dhoni and Sourav Ganguly. The India Test team has so far won eight consecutive series and is just one series win short of Australia's record of 9 series wins on the trot.
In ODIs, the Delhiite has won 64% of the total matches he has captained so far, although it's still early days of his ODI captaincy. The only aberration is the loss in the Champions Trophy final to Pakistan.
The 28-years-old is already regarded as one of the greatest batsmen of his generation. So here are 25 amazing statistics of Virat Kohli's illustrious career, divided between Tests and ODIs/T20I.
Honouring Virat Kohli's 29th, Here are some of his Records
Virat Kohli's Test Records
Virat's Test career has been very impressive, but he gets edged out by his fiercest rival, Steve Smith in virtually every department. However, as a Test captain, Kohli's record stands toe-to-toe, if not better compared to his Australian counterpart.
1.  The India captain became the only Test skipper in history to score three hundred in his first three innings as captain. He achieved this feat against Australia when he followed his twin hundreds at the Adelaide Test with a scintillating 140 at Sydney.
2.   Virat ranks third behind Don Bradman (@101.51 in 24 Tests), Steve Smith (@73.27 in 24 Tests) for highest average by Test captains with more than 2000 runs. Kohli averages 59.53 in 29 Tests as a captain.
3.   As captain, Kohli is 5th fastest to reach 10 Test tons in 44 innings. Don Bradman was the fastest in 26 innings followed by Mahela Jayawardena (36 innings), Steve Smith (37 innings) and Steve Waugh (43 innings).
4.   The Delhi batsman is tied with Brian Lara at the second spot for the most hundreds at no.4 as captain. Mahela Jayawardena tops the list with 14 tons as captain at no.4. Virat has 10.
5.   Kohli is also just one century behind the legendary Sunil Gavaskar for most hundreds by an India captain. Gavaskar made his 11 hundred as skipper in 74 innings, while Virat required just 46 innings for his 10. South Africa's Graeme Smith holds the overall record for most centuries as captain, having posted 25 in 193 Test innings.
6.   Kohli is the first batsman to score 4 double-centuries in 4 consecutive Test series. This is the longest such sequence going past Rahul Dravid and Don Bradman who have done it in three back-to-back series.
7.   The 28-year-old is also the first India captain to score three double-hundreds in a calendar year. Overall, his four double tons as captain rank second for the most double-centuries by a captain. Brian Lara tops the list with five 200-plus scores. The other captains to have 4 double-tons are Don Bradman, Michael Clarke, and Graeme Smith. The fact that India's previous 31 captains, starting from MAK Pataudi to MS Dhoni, combined to hit only four double-century scores tells you the magnitude of Virat's achievement.
8.   Only three India batsmen have scored more double-hundreds than Kohli's four. Virender Sehwag and Sachin Tendulkar lead the list with 6 double-centuries, while Rahul Dravid has five. Sunil Gavaskar has also four 200-plus scores.
9.   The superstar from Delhi is the quickest among India captains to reach 1000 runs away from home, breaking Sachin Tendulkar's record. While it took Sachin 19 innings, Kohli reached the milestone in 17. Only Gary Sobers (13), Alistair Cook (14) and Bob Simpson (16) managed to do it in quicker time.
10.  1252 Test runs scored by the Delhi dasher during the 2016-17 home season are the second highest runs scored by any batsman at home. Cheteshwar Pujara went past Kohli in the home series against Australia where the Indian captain was out of form. Virender Sehwag held the previous record with 1105 runs in 2004-05.
11.  Virat Kohli and Ajinkya Rahane share three double-century partnerships – most by any pair since 2013. All their stands have been for the fourth wicket. They have already equaled Sachin Tendulkar and Sourav Ganguly's record for 200-plus partnerships for the fourth wicket for India. Ricky Ponting and Michael Clarke hold the record with four double-century partnerships for the fourth wicket.
12.  On 11 December 2016, the India skipper became the only batsman in history to have an average of over 50 in all three formats of the game when his Test average nudged past 50 against England in Mumbai.
Virat Kohli's Limited Overs Records
The fiery Delhiite has been breaking records in white-ball cricket with consummate ease. Only MS Dhoni, AB de Villiers, and Yuvraj Singh are the active players to have scored more runs than the India ODI skipper. Hashim Amla is the next active player behind Kohli by a large margin of more than 2000 runs. However, he trails Virat by only three ODI centuries.
Here are some astounding statistics about Kohli's ODI career.
13.  Virat has the most number of centuries (18) while chasing. He broke Sachin Tendulkar's record of 17 centuries when he slammed a ton against the West Indies in the fifth ODI. Incidentally, Sachin took 232 innings while Virat did it in just 102. (Source: Cricinfo Stats
14.  Kohli has 16 centuries in successful chases in ODIs – most by any batsman. He again beat Sachin's record of 14 centuries.
15.  The 28-year-old has a mind-boggling average of 100.02 in successful chases in ODIs. He is the third highest run scorer as well in successful chases behind Ricky Ponting and Sachin Tendulkar.
16.  The Delhi batsman is third behind the great Sachin and Ricky Ponting in terms of a total number of centuries in ODIs. While Sachin tops with 49 tons, Ponting has 30, and Kohli is tied in the third place with Sanath Jayasuriya at 28 hundred. Sachin managed the feat in 452 innings while Ponting required 365 innings for his 30 centuries; Kohli needed only 182 knocks.
17.  Virat has scored the fastest ODI century by an Indian batsman when he achieved the milestone in 52 balls against Australia in 2013. Sehwag held the previous record when he slammed a 60-ball-century against New Zealand.
18.  The ODI skipper is the second fastest to reach 25 ODI hundreds behind Hashim Amla. The South African achieved this feat in 151 innings while Kohli did it in 162.
19.  The Delhi superstar is also the fastest to score 8000 runs in ODIs in 175 innings. He needed seven innings less than AB de Villiers to reach the milestone. Hashim Amla, who beat Kohli's record for fastest 5000, 6000 and 7000 runs, now needs only 814 runs in 21 innings to pip the Delhi batsman again for fastest 8000 runs.
20.  Virat Kohli is the fourth highest run scorer at the no. 3 position. The list is headed by Ricky Ponting who has 12662 runs at no.3, followed by Kumar Sangakkara (9747) and Jacques Kallis (7774). Kohli comes in fourth with 6250 runs.
21.  The fiery Delhiite has the highest average among the batsmen who have captained their side for more than 30 ODIs. Kohli averages an astonishing 80.95. AB de Villiers comes in at a distant second with 63.94 while Dhoni finishes at number three with an average of 53.92 as a captain.
22.  The 28-year-old has been involved in nine 200-runs partnerships in ODIs. This is the most by any player, eclipsing Upul Tharanga and Ricky Ponting's record of 7 such partnerships each.
23.  The India skipper became the first batsman to score 600 runs in T20I in a calendar year. He did it in 2016 with an astonishing average of 106.83 and at a strike rate of 140.26, featuring 7 fifties.
24.  The Delhi dasher has the most number of the 50s in T20I. He has gone past the 50-run mark on 16 occasions, one more than his RCB teammate Chris Gayle.
25.  Virat is the fastest to reach the landmark of 1000 runs in T20 Internationals. He needed just 27 innings to achieve this feat, 5 knocks less than Kevin Pietersen.
The India skipper is at the mid-point of his cricket career and has already surpassed some monumental milestones. What's more mind-blowing is the fact that he still has 8-10 more years left in top-level cricket.
Of course, he doesn't need 8-10 years to prove he is one of the greatest batsmen of all time; he already is one of the greatest of his generation. However, if he plays for another 8-10 years then the gifted batsman from Delhi will surely go down as one of the greatest of all time, breaking many more records in the process.
Ranojoy Middya
Belonging to the cohort of cricket fanatics, Ranojoy Middya is an assiduous cricketer who aspires to live life in purview of the cricketing world; penning his line of thinking at present and living up to it in the near future.