Red Bull Ask Honda To Take More Risks In Pursuit Of Power
Published 06/27/2019, 1:30 PM EDT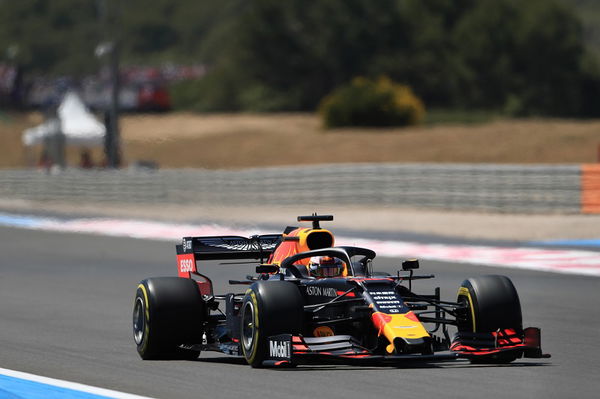 Red Bull and Honda is an alliance that has, by and large, impressed as seen this season. With eight races done and thirteen more to go, Red Bull have made it to two podium finishes thus far, and helped by strong performances by their main man- Max Verstappen- who clinched a hat-trick so to speak of P4 finishes as seen at Bahrain, China, and Baku- the Horner-led outfit have done pretty decently, one might add.
ADVERTISEMENT
Article continues below this ad
To that end, that they've not been able to win a race or finish as the second-best in any Grand Prix cannot really be marked as a big failure. This is for the simple reason that at the start of the season, post the winter-testing at Barcelona, it was established that the main task for Red Bull in 2019 was to simply cut down their gap to the frontrunners- Mercedes and Ferrari.
Theirs isn't a championship-winning car, it was told and was felt clearly. Still, if there's something that the Milton Keynes-based outfit would quite like to achieve in the remainder of the season then it is the garnering of more power.
ADVERTISEMENT
Article continues below this ad
And to that end, it is pertinent- one feels inside the Red Bull camp- that Honda took a few more risks in order to gain sizable power in 2019. As that is the right way to go.
While the likes of Helmut Marko and Christian Horner have never shied away from appreciating the current Honda engine, calling it "very sound" and "reliable", if there's a big area for improvement that the duo would quite like to achieve for their team then it is the area of "increased power."
ADVERTISEMENT
Article continues below this ad
A recent update from the Red Bull camp called Honda to take a few more risks down the road. Marko was quoted as saying the following:
"Everything Honda has promised to us has been fulfilled, but our previous updates did not bring as much benefit as those at Mercedes and Ferrari.
"In the future, we would like to see a little more risk and hope for a power increase.
ADVERTISEMENT
Article continues below this ad
"We would rather start from the back with a stronger engine because if Max starts at the back, a thrilling Grand Prix is guaranteed."
That told, from a driver perspective, the likes of Max Verstappen have felt that owing to a lesser power, the performance of the car right at the start of a GP is suffering somewhat. While the likes of Mercedes and Ferrari shoot away to a great flying start, the Honda engine of Red Bull owing to a somewhat underpowered engine doesn't really chip away seconds form the red lights turning green. And this is something that could be improved upon.