Red Bull Sponsors to Develop Own Power Units for F1
Published 06/23/2018, 8:02 AM EDT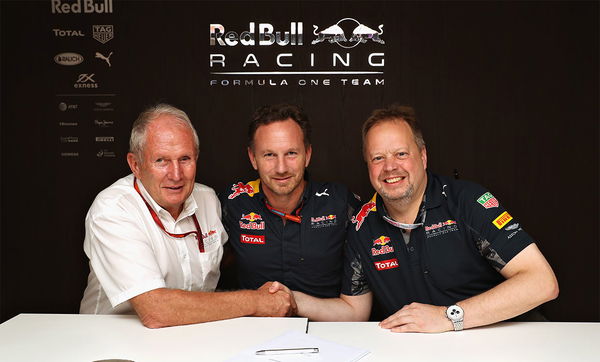 ---
---
Red Bull title sponsor, Aston Martin have confirmed that they will be going ahead with their plan to introduce a power unit of their own in F1 despite a slew of changes slated for engine rules in 2021.
ADVERTISEMENT
Article continues below this ad
With Liberty Media insisting on a number of rule changes from the 2021 season, the position of the current engine manufacturers in F1 is still unclear. If they opt to bow out, new suppliers will have to be brought in.
Andy Palmer, Aston Martin's CEO explained their decision. "It is really, really hazy what happens to F1 after 2020, because nobody is yet committed to a new engine."
ADVERTISEMENT
Article continues below this ad
"But I think the important point there is that clearly Red Bull have left the door open", Palmer told Autosport.
"The only reason for going further is if we have an innate belief that we can help Red Bull and we can win. And it is very much coming from a background of, how do you keep Red Bull racing in a context of difficult supply conditions", he added.
Red Bull have already tied up with Honda for 2019 and 2020 but that is not stopping Aston Martin from providing a potential new engine option for the team in the coming years.
 "Is it a one-stop shop, you can only buy from Renault or Honda? What happens if Renault or Honda aren't in the game in 2021? Are the future Renault or Honda engines in 2021 good enough that Aston Martin Red Bull can win races?"
ADVERTISEMENT
Article continues below this ad
"If not, what is the alternative? And of course one of the alternatives is that we develop our own engine", he said.
Palmer admitted that extravenous factors like cost considerations were still in the infant stages of being worked out. "We are reasonably comfortable in understanding the technical strategy, the debate for us now is what is called the sporting strategy", he said.
"This is the restriction on dyno, manpower, cost caps, the sharing of parts. It is more important to us than technical regulations, because it determines if we have the financial resources to go competition with the likes of Mercedes."
ADVERTISEMENT
Article continues below this ad
A new manufacturer will certainly be a good boost to F1 and with the older ones extending support to potential newcomers, the future prospects of the sport look exciting to say the least.