Red Bull switch Kvyat and Verstappen
Published 05/05/2016, 5:33 AM EDT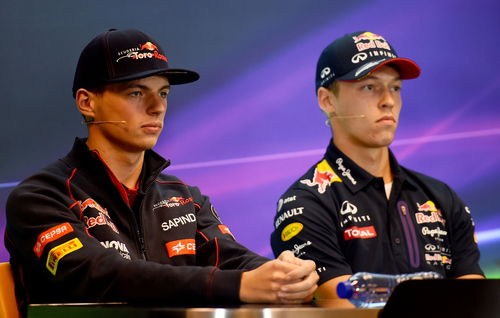 ---
---
Following talks from within the Red Bull Camp, the Austrian team made a surprising decision. Max Verstappen, the 18 year old talent will drive for Red Bull for the rest of the season, replacing Daniil Kvyat. The Russian had clashed with former Red Bull Driver Sebastian Vettel twice over the last couple of races. The incident at Sochii, where he crashed into Vettel twice, caused the German's retirement on the first lap.  The new arrangement will be in effect till the conclusion of the season.
ADVERTISEMENT
Article continues below this ad
Sebastian, who even went in person to the Red Bull garage to criticize the driving forced the team to act. Red Bull, which have always used Torro Rosso as a proving grounds decided to switch their driver roster around.
Christian Horner, Red Bull team principal has described Verstappen as an outstanding young talent" and said he was "pleased to give him the opportunity to drive for Red Bull Racing". It's surprising, as Horner described Daniil as "the real deal" when he was promoted to replace Vettel back in 2015. Speaking on Daniil's move to Torro Rosso, Horner said "Dany will be able to continue his development at Toro Rosso, in a team that he is familiar with, giving him the chance to regain his form and show his potential".
ADVERTISEMENT
Article continues below this ad
This has been a typical ruthless Red Bull decision, who are likely to remove drivers from their lines up, as they are to promote them. Daniil Kvyat, outscored his more experienced teammate, Riccardo in a season where Red Bull struggled and strained their relationship with Renault.  This season, while Riccardo has been a bit more consistent in performances, Kvyat has been atop the podium, with a third at Shanghai.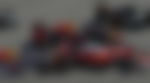 At Torro Rosso, Max Verstappen who received wide spread acclaim had a clash with teammate Carol Sainz at Australia over his inability to pass him. Since then, he has finished in the points more often and has 13 points this season, to the 4 of his teammate. Incidentally, Max is just 8 points behind Kvyat, so there's not much of a difference. There's no denying, that the Dutchman is showing tremendous potential.
At the end of last season, when discussing about Max, team bosses Totto Wolf and Claire Williams were full of praise for Max. When joking about taking him to their team after his contract ends, Horner countered of having him tied up for a long, long time.  This could be an underlying (if not the major reason) for this shift, to put max into the hot seat, and keep him happy. With a possible set of seats becoming available at the end of the season, it would be more of a long term outlook to have Max within their organization and develop his skills.
ADVERTISEMENT
Article continues below this ad
The decision was not met with much enthusiasm from others in F1, with Jenson Button particularly expressing his disappointment.

Now, it's time for Max to show more consistent finishing and break in to the triple digit of points for the season. There's now the possibility, the youngster might become the youngest podium finisher in the history of the sport.  For Daniil, he just should accept and move on. It might be harsh, but it's better to continue to have a seat in the sport than to lose it. Torro Rosso, as shown by the former kidlets partnership, is not a bad team either. He is still young and can develop. If he does show consistency, he will either regain the Red Bull seat in 2017, or secure a good drive elsewhere.
ADVERTISEMENT
Article continues below this ad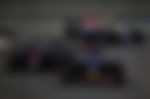 It's now going to be seen how the youngsters cope in their new environment and adjust.