Relive a 15 Year Old Battle Between Lewis Hamilton and Sebastian Vettel From Their Formula 3 Days
Published 01/10/2020, 5:07 PM EST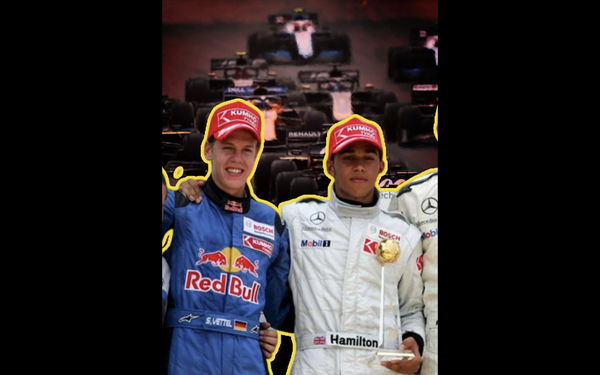 Mercedes driver Lewis Hamilton and Ferrari driver Sebastian Vettel have been rivals in Formula One for a fairly long time. However, their rivalry took root during their days in the Formula 3 Euro series, particularly in the 2005 season. That year, Lewis Hamilton went on the clinch the title, while Vettel only ended up 5th. Meanwhile, the British driver was pushed to the very end by former F3 teammate and friend, Adrian Sutil.
ADVERTISEMENT
Article continues below this ad
That year, Vettel only mounted occasional challenges to Hamilton, but when he did, the results were spectacular. One race that stands out is the first race at the Lausitz Circuit in Germany. Former Caterham driver Giedo van der Garde was leading from pole position, but all eyes were on the war for second and third.
ADVERTISEMENT
Article continues below this ad
How did the Lewis Hamilton and Sebastian Vettel duel pan out?
Vettel was second at the time, but Hamilton was harrying him all the way in the damp conditions in Germany. Lewis Hamilton did manage to sneak past on a couple of occasions, but Vettel always managed to fight back. There was plenty of wheel-to-wheel action between the drivers, as van der Garde slowly and steadily increased the gap to the duelling duo.
Eventually, Lewis Hamilton finally got past Vettel for good, and set off after the Dutch driver. However, Vettel kept tabs on his future F1 rival, until Hamilton overtook Giedo, while Vettel would remain 3rd for the remainder of the race.
Interestingly, during the Belgian Grand Prix weekend, eight cars were disqualified from race 1, including Lewis Hamilton and Sebastian Vettel. The official explanation was that the dimensions of their cars' diffusers didn't meet the regulations, and it created a bizarre situation.
This also led to Sutil winning his first race that year and boosted his championship challenge a little. However, Hamilton proceeded to run away with the championship. He had already wrapped up the title by the time the paddock reached the Lausitz circuit. Meanwhile, Vettel's podium was his fifth out out of 6 podiums that year.