"We Should Have Had a One-Two" : Red Bull
Published 10/30/2018, 7:49 AM EDT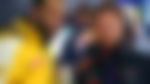 ---
---
Red Bull boss Christian Horner lauded Renault for the engines that they provided for the Mexican GP. Horner said that under tough conditions Renault helped them to compete at the highest levels against their rivals. Despite openly criticizing Renault for hampering Red Bull's chances this year, Horner said that they came up with the goods in Mexico.
ADVERTISEMENT
Article continues below this ad
"Credit where credit is due,"
said Horner
. "Renault have provided us with an engine this weekend in these conditions that is competitive with our opponents." 
Despite Max Verstappen's dominant victory, Horner said they deserved a one-two finish. Daniel Ricciardo's sixth mechanical retirement of the season, meant that Red Bull would have to suffice with just one on the podium.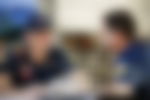 "We went head to head [with Red Bull's rivals], locked out the front row, pole position, second position, front row of the grid, and won the grand prix in a dominant fashion," Horner said. "Theoretically we should have had a one-two too."
ADVERTISEMENT
Article continues below this ad
"The altitude of this circuit obviously does constrain some of our rivals, and it puts Renault into a window where they are competitive"he continued. "Which is why we put an awful lot of focus into this race, taking the penalties to get another B spec into the pool to have for this weekend", he added.
However, it is known that Red Bull has opted to choose Honda as their engine providers in the next season. Honda has had decent successes with Toro Rosso, which has prompted Red Bull to partner with the Japanese giant. Meanwhile Max Verstappen, won back to back titles in Mexico, despite being denied a pole position in the qualifying, and an opportunity to become the youngest pole position winner at the Mexican Grand Prix. The Mexican Grand Prix race also proved to be a successful event for the works of Renault squad with Nico Hulkenberg securing a second consecutive 'best of the rest', in the F1's midfield fight to take sixth place.