Renzi backs Rome's bid for 2024 Olympics as investment
Published 01/21/2016, 1:25 PM EST

Follow Us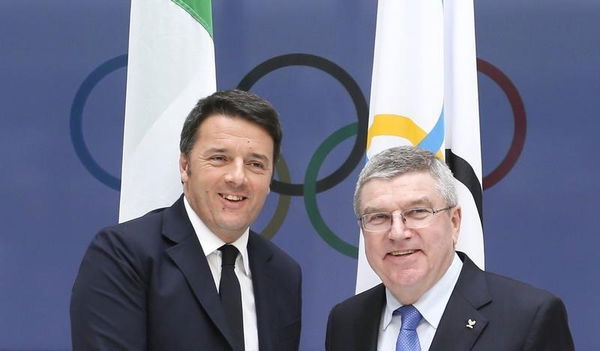 LAUSANNE, Switzerland (Reuters) – Italian Prime Minister Matteo Renzi endorsed Rome's bid to host the 2024 Olympics on Thursday, saying that European countries should invest as much in sports and culture as in security.
Renzi led an Italian delegation to the Lausanne headquarters of the International Olympic Committee (IOC), where he made his pitch to IOC President Thomas Bach and senior officials.
"I think this is the time of Rome. This is my personal position. We are ready, we are in. And I think we are also the strongest candidacy, with all respect for Paris, Los Angeles, and Budapest," Renzi told Reuters.
ADVERTISEMENT
Article continues below this ad
Italy's attempt to host the 2024 Olympic Games is a chance to clean up the scandal-plagued capital city, the bid's chairman, Luca Cordero di Montezemolo said last week [nL8N14V48U]. Montezemolo, a former head of Ferrari, has said it would cost 24.9 million euros ($26.96 million) to make the bid.
Some have questioned whether the city can manage the lucrative contracts for the Olympics. They cost London, the last host city, some 9 billion pounds ($13.1 billion).
A mafia trial is under way after news broke in late 2014 that a criminal ring had allegedly been skimming millions of euros off city hall contracts for years.
Renzi, asked whether spending on the Olympics would be part of the EU deficit calculations, said: "I think for the budget, our Olympic Games in Rome, everything is good. We haven't a problem of deficit, there is a great organisation, there is a great team.
"My personal position is that for every euro invested in security, defence, cyber security and technology, we can invest euros in culture, education, research and sports."
ADVERTISEMENT
Article continues below this ad
Renzi's presence "means there is the full commitment of the government. He will go much more into details what the government intends to do, helping local authorities in Rome to put up a good business plan," Rome Committee spokesman Fabio Guadagnini said.
Italy's organising committee is to present its "full project and vision" on Feb. 17th, Guadagnini said. The IOC will name the winner in 2017.
Bach, asked about any concerns about corruption linked to Rome's bid, told Reuters Television after the talks that "all that has to do with this candidature will be in compliance with the strict rules of the International Olympic Committee."
ADVERTISEMENT
Article continues below this ad
($1 = 0.9234 euros)
(Reporting and writing by Stephanie Nebehay,; additional reporting by Marina Depetris,; editing by Larry King)