Reports Indicate Alfa Romeo F1 Revamping Its Headquarters With New Simulator and Equipment
Published 01/22/2020, 9:01 AM EST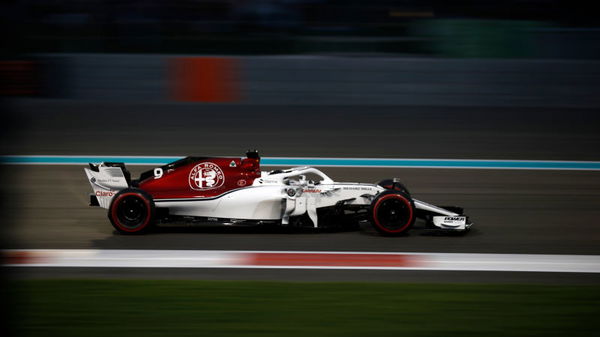 ---
---
Alfa Romeo is making some major progress when it comes to car development. A recent report hinted at significant upgrades coming the team's way at their headquarters in Hinwil.
ADVERTISEMENT
Article continues below this ad
Alfa Romeo developing a new simulator
Alfa Romeo was relying on Ferrari's "Spider" for car development and testing. The Spider was Ferrari's 2019 simulator. Alfa Romeo was quite dependent on Maranello when it came to collecting valuable data from the car.
ADVERTISEMENT
Article continues below this ad
However, a recent investment in a wind tunnel and advanced DIL simulator could greatly benefit the Swiss-based outfit. According to reports, the wind tunnel and simulator will be upgraded. This will result in additional data collection for car development. Additionally, this could provide a much-needed boost for the team given the major regulation changes coming in 2021.
Alfa Romeo also invested in an advanced vehicle driving simulator. The AVDS utilizes a DIL (driver in the loop) system which aids in setting the car up for race trim and optimizing performance. Additionally, the system greatly assists in driver preparation.
Some of the key features of the AVDS platform are the lower levels of latency and precision. This results in improved accuracy and more useful data. Speaking about the system, Antonio Giovinazzi said, "The aVDS provides the realism and functionality that best suited the team's needs. When driving the aVDS, vehicle setup parameter changes were made that were smaller than those typically made on the real car".
Optimistic developments
Giovinazzi went on to add about the efficiency of the system in representing setup changes. These investments could prove to be instrumental in bringing Alfa Romeo's campaign back on track.
ADVERTISEMENT
Article continues below this ad
2019 saw Kimi Raikkonen return to Alfa Romeo (formerly known as Sauber) after 18 years. Raikkonen debuted for Sauber back in 2001. The team finished 8th in the points following a mixed campaign.
2019 also saw the full-time return of Antonio Giovanizzi-who had driven a few races for Sauber in 2017. Giovinazzi started the season slowly but went on to outqualify Raikkonen on several occasions. The team's best result came at the Brazilian Gp, with Raikkonen and Giovinazzi finishing 4th and 5th respectively.
Going into 2020, Alfa Romeo would like to have a lesser dependency on Scuderia Ferrari.
ADVERTISEMENT
Article continues below this ad
Apart from engines, Alfa would be keen to make maximum utilization of the improved facilities.