The Resurgence of Juan Martin Del Potro
Published 10/24/2016, 12:37 PM EDT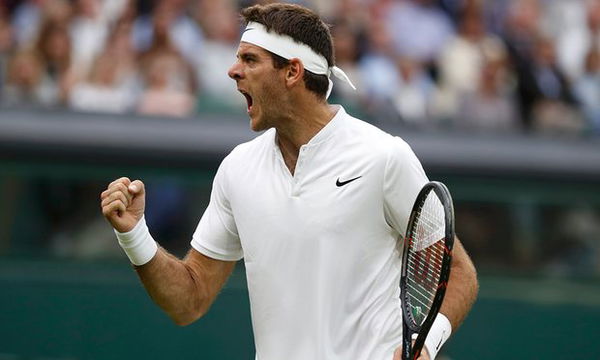 ---
---
To look up Juan Martin Del Potro online is akin to entering a world of pain. Almost everything on the guy starts with his famous US Open upset of Roger Federer – a stunning event back then, a 20 year old outsider getting the better of a 5 time defending champion at Flushing Meadows in a 5 set classic. But after that, it almost reads like a news bulletin of the various injuries he has suffered, most often his wrist, which has been operated on 3 times. For a player of such potential, this is all the more tragic, the trophies sounding like a highlight reel, rather than a long list of accolades, which it would have been if not for the wrist.
ADVERTISEMENT
Article continues below this ad
Every ode reads like an elegy, a wistful "What-If" lament about a player widely considered the most likeable guy on the circuit. As the previous decade was coming to a close and the now famous quadremvirate, the Top 4 (Roger, Rafa, Novak, Murray) was still in its infancy, this lanky 20 year old was widely tipped to be the next big thing in tennis. The one person to challenge the dominance of the Top 4. Sports Illustrated had predicted that the 'Tower of Tandil' would be the most consistent winner over the next decade.
But then came the injuries. He started off 2010 with an exhibition match or two but soon realized that his wrist was giving him trouble, and had to sit out pretty much the entire season. He returned in 2011, with his ranking dipping to the 500th place, and after a pretty much uneventful first half of the year, DelPo produced a string of strong performances, leading Argentina to the final of the Davis Cup before losing to Spain. He ended the year as world no. 11. He had another commanding year in 2012, producing a string of almost there performances, most of all against Roger Federer, and the rivalry peaked at the London Olympics, where the SF between the 2 resulted in the longest 'Best of 3' match ever played, clocking in at close to 4 hours, 30 minutes. Del Potro then defeated Novak Djokovic to take home the Bronze. In 2013, Del Potro continued his rich vein of form, culminating in an epic 5 setter Sf at Wimbledon against Djokovic, which Del Potro called "the best match of my career" despite coming up short. 2014 was when the wrist injury struck back, and sidelined him for close to 2 years, barring a few appearances in 2015.
ADVERTISEMENT
Article continues below this ad
To watch Del Potro play in his elements, is one of the few luxuries life affords you. In a game dominated by defence minded, top spin heavy players, Del Potro with his extremely aggressive brand of flat, bullet like forehands is like a double barreled shortgun blast. His forehands have been found to reach speeds of as much as 110 mph. With that 6'6 frame of his, he comes down very heavy on the ball each time, using what many commentators call the "EasternGrip", a way of holding the racquet so that you make contact with the ball in a much more straighter way, resulting in more speed, as compared to most players on the circuit who utilize the top spin heavy Western Grip. Think Rafa Nadal. Djokovic has often called this forehand the "best on the circuit", and in that 2013 Wimbledon marathon match, after the 113 mph forehand, when the point ended, Djokovic just bent over in exhaustion. John Isner once had to literally jump out of the way of a DelPo forehand thunderbolt in order to avoid being hit. Potro doesn't just want to hit a winner, he wants to annihilate the competition you offer.
During his initial ascent to the top, Del Potro also saw a lot of success against Andy Roddick, who, in his own inimitable style, later commented, "Juan Martin is a different level player. I remember I was kinda big once upon a time as far as tennis is concerned." Apart from his forehand, this was also an indicator of the complete player that Del Potro is, being almost unbelievably quick on his feet for someone that tall, and possessing a good, powerful serve along with a consistent backhand. He has also given lie to the tall players are as good as their service cliché, which had gained ground post the unidimensional play and success of players like Ivo Karlovic and John Isner. As far as gameplay goes, he doesn't have a very evident weakness. Or that is until you consider his almost laughable unwillingness to run. He has often been quoted saying "I hate running", and is often seen standing rooted to his spot, wishing for the ball to go out. It's this human fallibility that makes him all the more endearing to the crowd.
But, how strong is DelPo in his head and can he take the rigours of being a top tennis player is something that has come up in the past. Have the 3 surgeries on his wrist to cure his entensor carpi ulnaris left him depressed and unfit to reign the circuit is a question his critics have raised, more so in the past 2 years. He has admitted that they almost took a toll on him and he did consider quitting tennis for a small while. But, the gentle giant's comically clumsy demeanour combined with his affability, which have made him an absolute crowd favourite and even a locker room darling, and the resulting love and prayers that came his way are what helped him during this time, in his opinion.
Read: Del Potro wins Stockholm Open
ADVERTISEMENT
Article continues below this ad
Just when the world was about to give up on him, the Argentine stormed back in style, turning it on at the Summer Olympics 2016, defeating Djokovic and Nadal, before finally falling to Andy Murray in the Final and settling for Silver. And when fans were praying for him to somehow make it past the third round at the US Open, he surprised and delighted the Arthur Ashe crowd in equal measure, putting out some top players like Steve Johnson, David Ferrer and Thiem before bowing out in the QF to Stan Wawrinka. They really love him at the Arthur Ashe as one of their own, and he was vociferously cheered even after he put out Johnson, a local favourite. As the match ended well past midnight yesterday, cheers of "Ole ole ole Del Potro ole ole" rang out throughout the stadium, as Del Potro openly wept tears of joy. He later went on to comment that "he'll forever remember this moment, for as long as I live." He  then played against Murray in a rematch of the Olympics Final in the Davis Cup, winning the 5-set match in 5 hours and 7 minutes. At Stockholm Open, del Potro beat John Isner, Nicolas Almagro, Ivo Karlovic and Grigor Dimitrov en route to the final. He sealed the win against Jack Sock to win his first title since his return from injury.
No other modern day sport is dominated by such few players as Men's tennis. It's almost like an insurmountable chasm exists between the Top 4 and the rest of the Men's circuit. A chasm so huge that most players are condemned to fail while trying to bridge it. But now, it's almost time for Federer to walk away into the sunset, while Nadal's injuries have made sure that he'll never be the player he once was, howsoever odd and disturbing that argument might sound in an article about DelPo's resurgence after a spat of injuries, the top of the Men's tennis is becoming a lonelier place. There are of course a lot of emerging players in Thiem, Pouille, Raonic, to go along with the established Nishikori, Wawrinka, Tsonga etc to challenge this dominance and keep the circuit interesting, Del Potro on his day is better than the lot, and probably as good as anyone from the circuit. Though he obviously needs to put in the effort and hope that no more injuries plague him. At 28, and younger than Djokovic and Murray by 1 year, Del Potro is finally ready to take over the baton of the best in the world. More than anything, the tennis world needs him.
Ve a por allo, DelPo!
ADVERTISEMENT
Article continues below this ad