Rewinding the clock in Cuttack: The magic of Yuvi-Dhoni partnership
Published 01/22/2017, 12:53 AM EST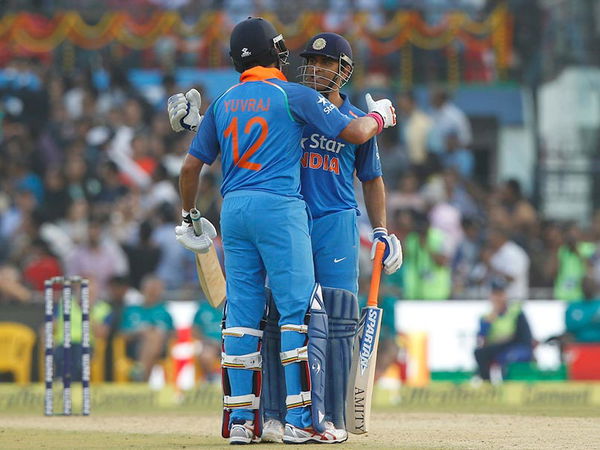 ---
---
In the second half of the 2000's decade, Yuvraj Singh and Mahendra Singh Dhoni together blasting the world's best bowlers and finishing off ODI matches for India had become a habit. These two gave cricket lovers across the country tremendous entertainment and joy. They won India countless matches. They did it with a swagger that was new to Indian cricket. They had, for obvious reasons, caught the imagination of cricket fans and the nation was in awe of them. Quite Fittingly, it was these two who were in the middle at the end on that very special night of 2nd April 2011.
ADVERTISEMENT
Article continues below this ad
Their partnership is more than just two extremely talented individuals coming together. There is an understanding that makes them complement each other perfectly. Both are extremely able at building an innings from scratch or coming in the final overs and demolishing the opposition attack. Being a left-right hand combination, the duo were the perfect arsenal to have in the armory which had become a major headache for opponents.
ADVERTISEMENT
Article continues below this ad
Suddenly after that magical night in Mumbai, this joy was almost snatched away from the Indian fans as Yuvraj Singh was diagnosed with cancer and fought an inspirational battle. Though Yuvraj did come back to International cricket, he could never find that old touch again and it almost seemed that the best of him was past. With Dhoni himself ageing and doubts being raised about his future, seeing these two at their best together was something people had started accepting to themselves might never happen.
ADVERTISEMENT
Article continues below this ad
But Yuvraj is not one to give up and Dhoni isn't one who cares about what the critics have to say. Yuvi kept slogging hard in domestic cricket for Punjab and gave some exceptional performances which when combined with him regaining fitness made it increasingly tough for the selectors to ignore him and finally he made a comeback into the Indian team for the series against England.
When India found themselves in deep trouble at Cuttack in the second one day at 25-3, the nation's hopes turned on its two veterans. They had promised to entertain us again in a short video after the first warm up and again, they did not disappoint. Taking India out of the difficult situation, both of them set themselves up for vintage displays playing the best strokes of their explosive armor and creating a show which was such a normality a decade back. Yuvraj's sensational bat lift and Dhoni's bullzoder's power made it a fascinating evening for everyone who had their eyes on the processing at the Barbati stadium in Cuttack.
Both these southpaws are in the final stage of their career. Nobody knows, how many times we will get to see these displays again. For what one may know, we might have seen the last of it. For that reason the partnership was that extra emotional for everyone yesterday. Now, everytime these two come together, the Indian fan will enjoy it slightly more and appreciate it a little more because the six year hiatus has taught us how special these two match winners are for the Indian team and these are two of the greatest the Indian limited overs team has ever seen. Everyone realises that finding a pair like them again will be near to impossible. This is why Cuttack wasnt just a memorable partnership, it was a throwback into the finest memories of an Indian cricket fan.
ADVERTISEMENT
Article continues below this ad