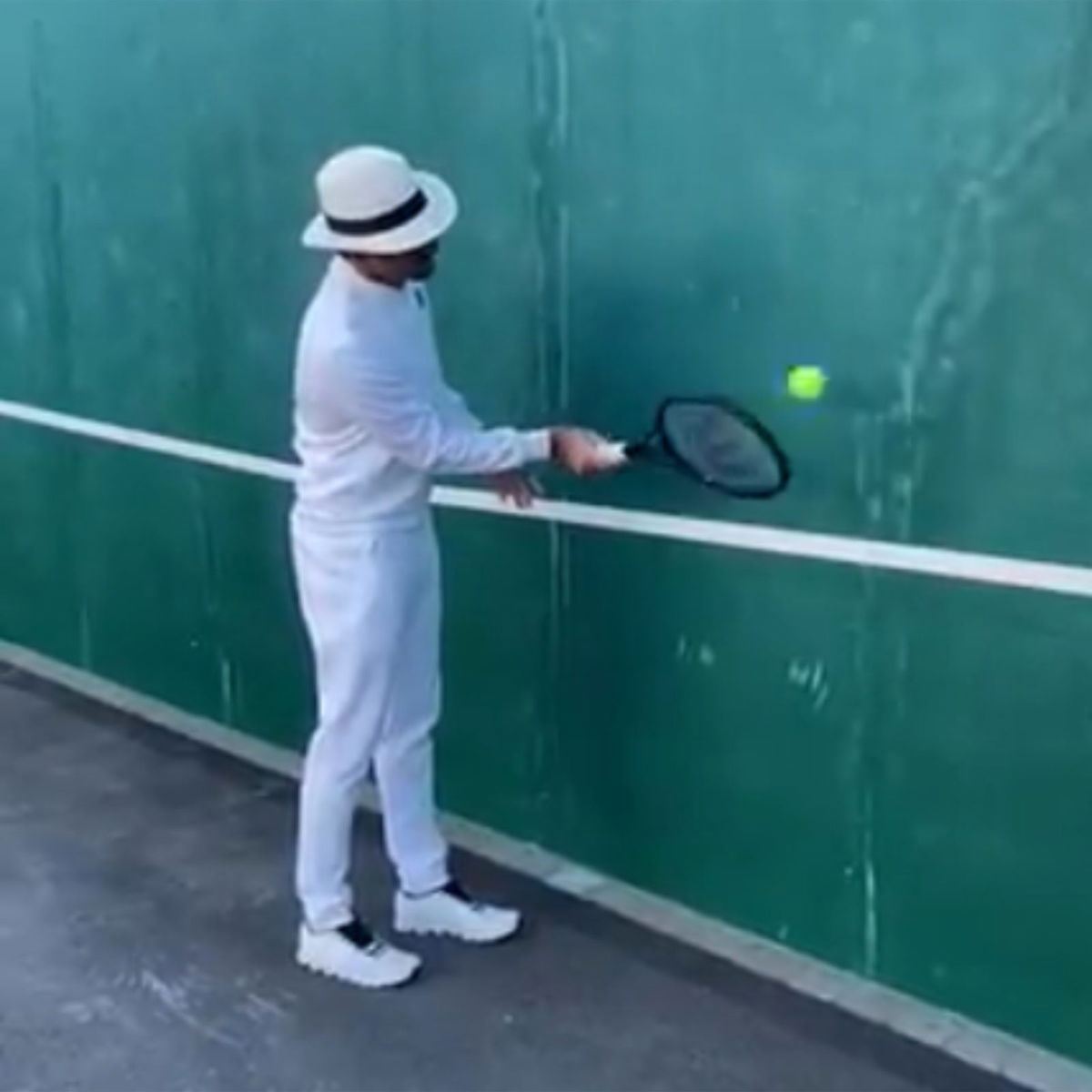 Roger Federer has found a new way to pass the quarantine period. In the past few weeks, the Swiss maestro has been posting various videos of himself on Twitter while practising some tennis tricks.
Roger tagged quite a few personalities asking them how they are training at home during the lockdown. From the tennis world, he named Alexander Zverev, Rafael Nadal and Coco Gauff. He tagged footballers Cristiano Ronaldo, Toni Kroos and Gianluigi Buffon. He also tagged basketballers Luka Doncic, Dirk Nowitzki and Stephen Curry. In addition, he tagged rugby player Tom Brady and cricketer Virat Kohli.
However, his preferences were not restricted to the sport. Roger also tagged billionaire businessman and philanthropist Bill Gates, Comedian and The Daily Show host Trevor Noah, Hollywood star Dwayne "The Rock" Johnson and the star of Man vs Wild Bear Grylls.
However, Federer decided to go one step further in his latest video. Not only was his trick one level cooler, but his attire was also off the roof. While watching the video, you'll find it hard to decide whether you need to focus on his tremendous skill or make fun of his clothes.
Know More – Roger Federer Announces Big News Concerning Retirement
Well, you don't become the most fashionable man in the world without some experiments. That's exactly what Roger Federer did.
What was the attire worn by Roger Federer? 
Here's a helpful solo drill. Let's see what you got! Reply back with a video and I'll provide some tips. Choose your hat wisely 🎩😉👊 #tennisathome pic.twitter.com/05lliIqh1h

— Roger Federer (@rogerfederer) April 7, 2020
Our beloved star decided to go with an all-white attire complete with white shoes. However, Federer wasn't stopping there.
The latest addition to his wardrobe was revealed. Federer was sporting a white hat that surely gave him an eccentric look while practising. Yes, don't forget that Federer was wearing these clothes while going for a round of tennis.
Roger's latest trick again involved playing tennis with the wall. He decided to bounce the ball directly from his racquet to the wall and see how long he could sustain the motion.
Know More – Wimbledon 2011: The Loss That Crushed Roger Federer
Well, he did it for the entire duration of the one minute video. The focus with which Roger was performing the task was exemplary of his level of concentration with the racquet in hand.
For many, hands would start hurting just by watching Federer hold that motion for so long. However, an all-white Federer looked all set to go into Wimbledon. Maybe, this was to signify that he's coming for the trophy at the All England Club next year around. Do you think Roger Federer is the topmost contender for winning the Wimbledon for the next year?