"Roger Federer Is More Beautiful but Novak Djokovic Is the Best Ever" – Tennys Sandgren
Published 02/17/2020, 7:14 AM EST
By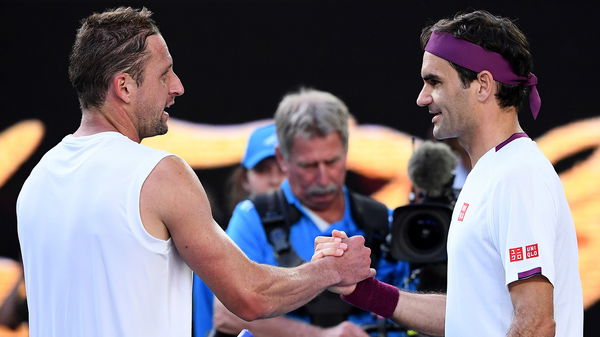 Tennys Sandgren had a very good Australian Open, repeating his best showing to the quarter finals. He lost to Roger Federer in a thrilling 5 sets match. In an interview, he revealed his opinion on the best player between Federer and Novak Djokovic.
Novak Djokovic over Roger Federer
Sandgren made the quarter finals at the slam Down Under again after 2018. His run to the quarters was by no means easy; he beat the likes of World No. 8 Matteo Berrettini, Fabio Fognini and Sam Querrey to be there.
ADVERTISEMENT
Article continues below this ad
Facing Roger Federer, Sandgren was not fazed by any means. Federer started to look a bit stiff after the opening set and Sandgren took full advantage to seize the next two sets and lead 2-1 sets.
By the fourth set, the writing was all but on the wall for Federer. He was struggling, his groin was limiting his movement and his shots. And across the net, Sandgren was in very good touch and bouncing with confidence.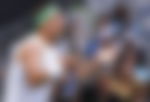 Federer took his medical time out off-court, before the fourth set began. He came back still looking a bit stiff, but with time he started moving freely again. The fourth set was a thrilling affair which went down to the wire with a tie-break.
ADVERTISEMENT
Article continues below this ad
Sandgren had a total of seven match points in the fourth set, but failed to convert. And when you don't put away the best players in the sport, they make you pay. Roger took the tie break and the deciding set to advance to the semi finals.
The Swiss said after the match, "I didn't deserve this one." But let's be honest, the truth is he held his nerve when Sandgren could not.
In an interview, Sandgren talked about the best player ever in tennis between Federer and Djokovic.
ADVERTISEMENT
Article continues below this ad
"There is no doubt that Federer is more beautiful to look at, but Novak is the best ever. We do one thing and he does another. We try to hit a winner, while he places the ball in difficult and irritating areas, where it is impossible to surprise him. He suffocates you slowly. What he does is just incredible."
As you can see, Sandgren picks Novak as his choice for the best player ever. His reasoning behind the choice is quite sound too. But it is still a bit surprising given he recently lost to Federer despite having multiple match points.