Roger Federer Reveals Problems With Dunlop Ball at Australian Open 2019
Published 01/16/2019, 11:24 AM EST
---
---
Roger Federer sailed through his second round at the Australian Open today, defeating the Brit Dan Evans in straight sets. In his press conference Federer had interesting things to say about the new balls at the Australian Open. This year's Australian Open has switched to the Japanese-made Dunlop balls, after a five-year commercial deal was signed in the last year.
ADVERTISEMENT
Article continues below this ad
Many players have made comments that they are a little bit too hard and dead and that it has not been easy to put good spin on them especially during the night sessions and in cooler conditions.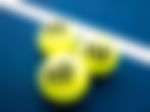 ADVERTISEMENT
Article continues below this ad
Players such as Bernard Tomic and John Millman have already expressed their disappointment against the balls. "The balls are really s**t – so I've got to factor that in for next week in Melbourne, just remember how bad the balls are in cold conditions like that", said John Millman, at the Sydney International. "I don't know too much (about the balls), but I don't feel- like it is that good of a ball", said Australian player Bernard Tomic. "I think they're pretty cheap from what I've heard," he added.
Roger Federer also spoke about the balls after his match against Dan Evans, and said that that the balls were indeed difficult to hit with spin during the night sessions, when it was colder. "I mean they're definitely a touch different from the ones we had last couple of years….I do see what they're saying you know, at the night the spin is not taking off tremendously", said Roger Federer during his press conference.
ADVERTISEMENT
Article continues below this ad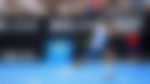 "I think for me I definitely have to go through a minor adjustment maybe from Perth- which was a faster court", continued Federer. "I mean look one year ago it was too far back(to compare) you know…but its hard to out-spin guys here you know as they changed the you know the finals also to a night session and the semis(semifinals) also night sessions", he added.
"I just feel like its really important to have fast enough courts for night session conditions you know as the main matches are being played there because if you keep it slow-slow I mean at night the ball doesn't move so from that standpoint I think they have done a a nice job of speeding up the courts", said Roger Federer.
ADVERTISEMENT
Article continues below this ad
"Now the balls- obviously still early in the tournament to tell you how it feels exactly", said the Swiss maestro. "I still feel you can serve your way out of trouble, from the base-line you can spin and slice and all that stuff we saw today but …it is true you cant out-spin a guy here(with the new balls), I think that's clear", said Federer.