Roger Federer Sends His Regards to Savannah Guthrie on Reaching Her Milestone
Published 06/07/2021, 8:57 AM EDT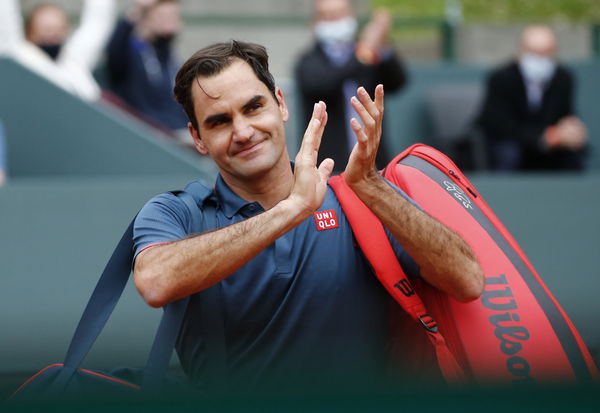 ---
---
Roger Federer is loved and admired by many people. And one of his high-profile fans includes journalist and presenter Savannah Guthrie. She has not been shy about having a crush on Federer and as she completed 10 years on the 'Today Show', it was Federer who gave a surprising message on her achievement.
ADVERTISEMENT
Article continues below this ad
On the occasion of the milestone, the Today Show ran a special segment called Savannah-versary. And there Savannah Guthrie was surprised with a special message from none other than Roger Federer.
"Hi Savannah, it's Roger here. I wanted to congratulate you on amazing 10 years on the Today show. Thank you for having me on your show. Thank you for all your support over the years also with the foundation. And being a great tennis player hope we can play again very soon. Take care and I hope to see you very soon."
ADVERTISEMENT
Article continues below this ad
Savannah Guthrie and Roger Federer playing tennis together
Savannah Guthrie has played tennis with Federer. Back in 2018, Savannah joined Bill Gates, Jack Sock, and Federer to play a celebrity match and raise money for Federer's foundation. It was the team of Bill Gates and Roger Federer against Jack Sock and Savannah Guthrie. They managed to raise $2.5 million from the match.
"I mean I got to meet Roger, so it was crazy! I saw him… he was really nice. He was like, 'I feel like I know you. In all the times that I imagined the worse-case scenario, it was actually way worse in terms of my tennis, but it was so fun, I'm really, really glad I did it," Guthrie said on playing with Federer.
Savannah Guthrie's Federer obsession
ADVERTISEMENT
Article continues below this ad
Moreover, on the Ellen DeGeneres Show, Guthrie admitted to being obsessed with Federer. And hence, Ellen gifted her a cardboard replica of shirtless Roger Federer that Guthrie later promised to put in her office.
"I'm not like a stalker!. I'm dying to meet him.I love it!. I do think I come off as a little bit creepy!"
ADVERTISEMENT
Article continues below this ad
On court Federer recently withdrew from French Open 2021 to safeguard his body for the upcoming grass-court season. He is confident ahead of Wimbledon Championships 2021.