"Roger Federer's Serve Is A Hybrid Of Pete And Andre" – Andy Roddick
Published 04/17/2020, 6:59 AM EDT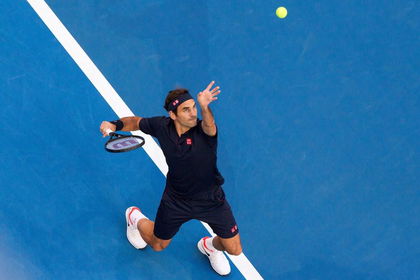 ---
---
Swiss Maestro Roger Federer is one of the best servers on the ATP tour. Out of all the shots he plays, his serve is probably his strongest weapon. In a recent talk with Tennis Channel, Andy Roddick talked about this amazing serve. Check it out.
ADVERTISEMENT
Article continues below this ad
The Serve Of Roger Federer
ADVERTISEMENT
Article continues below this ad
In his talk, Andy Roddick talked about Roger's serve being a hybrid of the serves of 2 other players. He said,
" Andre Agassi was a player who messed around with his ball toss and the pacing of his serve. Pete Sampras was a more powerful server and had very good placement. I feel that Roger Federer's serve is a hybrid of Pete and Andre."
This is probably why Roger Federer's serve is so good. He has taken the best aspects from players who played before him and made his serve a lethal weapon. Andy Roddick went on to talk about how lethal this weapon is. He said,
"Roger had the incredible ability to throw any kind of serve at any time. He could throw 97 mph kick serve one time then throw a very powerful serve out wide. He was never predictable and that was what was so frustrating."
While we are talking about how amazing Roger Federer's serve is, I think every tennis fan knows that all of his shots are amazing. He is the most complete player in the history of tennis and this is why he is sitting at the top of the hill with 20 grand slam titles.
Even at the age of 38, Roger is still competing for the grand slams which shows how good he is. However, he has not won a slam since 2018 but we can expect him to win more soon enough.
Unfortunately, he will have to wait till July as the ATP tour has been suspended due to the coronavirus pandemic. But when the tour returns in July we can expect Roger to come back hungry and lift his 21st grand slam title.
ADVERTISEMENT
Article continues below this ad
ADVERTISEMENT
Article continues below this ad