Ronaldo and Messi – Rivalry or Legacy?
Published 06/18/2015, 1:34 PM EDT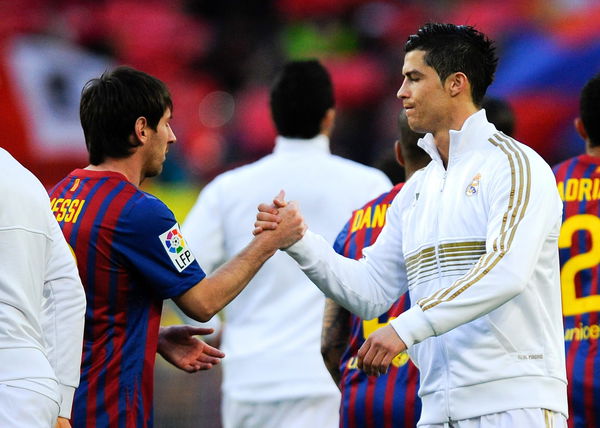 ---
---
Some call it the greatest 'rivalry' of all time. With Cristiano Ronaldo and Lionel Messi winning 2 FIFA Player of The Year awards and 5 FIFA Ballon d'Ors between them, the 'rivalry' has only heated up in recent times. But does it deserve to be termed as a rivalry. Isn't rivalry a weak term for these two super athletes who have been pushing each other to greater heights year after year?
ADVERTISEMENT
Article continues below this ad
FIFA records for the past 8 years show only two names at the helm of almost every list of the World's Greatest Players. Rivalry? I say what they are creating and what they will leave behind once they hang up their boots is – A Legacy. A Legacy which will stay for a long time, maybe forever, A Legacy which will motivate youngsters all around to world to rise from the darkest corners of this planet and shine like these two.
Leaving all the individual awards aside, Cristiano Ronaldo and Lionel Messi cannot be compared to what they were 8 years ago. While Lionel Messi had started to blossom even under the shadow of Ronaldinho, Cristiano Ronaldo had started to excite the Old Trafford faithful in Manchester. Lionel Messi had started winning honours for Barcelona in 2005 when Barcelona won the Spanish League. Cristiano Ronaldo on the other hand had only completed 2 years in England after completing a move from Sporting Lisbon to Old Trafford in 2003. Ronaldo tasted silverware for the very first time in 2004 as the Portuguese won the FA Cup and even scored in the final against Millwall. Ronaldo's talent was there to be seen and so was Messi's.
ADVERTISEMENT
Article continues below this ad
The FA Cup was the last success both Manchester United and Ronaldo tasted for quite a while as they could not win anything for the next 3 years. While many thought United were done and dusted, Sir Alex was building yet another great team which would become a Championship winning machine which they did as United reclaimed their crown in 2007 and won it three times in a row. One man was highly influential in this amazing run for Manchester United, Cristiano Ronaldo who led to three EPL titles and also helped them conquer Europe in 2008.
Lionel Messi on the other hand won the La Liga two times in a row and also won the Champions League in 2006 as they beat Arsenal. Messi however wasn't involved in the match after being ruled out due to injury.  Messi and Ronaldo faced each other for the first time in the 2008 Champions League Semi final but none could register a goal in either legs as the tie was settled by a Paul Scholes screamer in the second leg at Old Trafford. The 2008-2009 season saw Barcelona bring in Pep Guardiola who redefined Barcelona and made them the best team in Europe for the next couple of years. Messi was the fulcrum of almost every Barcelona attack with Xavi, Iniesta and Messi himself causing havoc in the minds of the best of defenders. The two met again in the 2009 Champions League Final in Rome, this time though Messi and Barca did not allow Ronaldo to shine as Messi was among the goal scorers and Barcelona beat United 2-0. Messi won the Player of The Year award and Ronaldo played his last game in a United shirt.
ADVERTISEMENT
Article continues below this ad
What happened next elevated this 'rivalry' to a whole new level. Ronaldo moved to Real Madrid in a record breaking £80 million move to become the most expensive footballer in history. The Real Madrid-Barcelona rivalry had been given another chapter with two of the best footballers on the planet playing in Spain's biggest teams, fighting for the same glories every year. They would go on to push each other in almost every department. Ronaldo and Messi are currently tied at 77 goals in the Champions League. Messi leads the current standings for La Lia top Goal Scorers with 284 goals with Ronaldo behind at 8th with 225 goals, that, after joining the La Liga in 2009.
Since Ronaldo's move to La Liga, Ronaldo has scored 225 goals compared to Messi 232. Ronaldo has scored 62 times in the Champions League compared to Messi's 60. Even this season, when Messi has outplayed every single opponent and has been arguably the better player, Ronaldo has scored more times than Messi. Messi however will have the Treble to show for, while Ronaldo with nothing but that does not take away the fact that even in poor form by his standards, Ronaldo has been superb.
Many consider players like Eden Hazard, Neymar, Suarez and Gareth Bale as great players but none fall in the bracket of those two. In fact, they're not even anywhere close. Wonder what football would have been without a certain Cristiano Ronaldo competing with a certain Lionel Messi. Imagine two athletes fighting to be the best, pushing each other and their own standards higher and higher not every year but every week. Many wonder whether there'll be another Cristiano Ronaldo or whether there'll be another Lionel Messi. Well, even if there are to be any, they'll have to be born in the same era and play in the same league, in the biggest of teams and perform and shine week in week out to come any close to Lionel Messi and Cristiano Ronaldo.
ADVERTISEMENT
Article continues below this ad
They have not been involved in a 'rivalry', they have and are still creating a legacy!