Rosberg win raises hope of gloves-off finale
Published 11/16/2015, 12:00 PM EST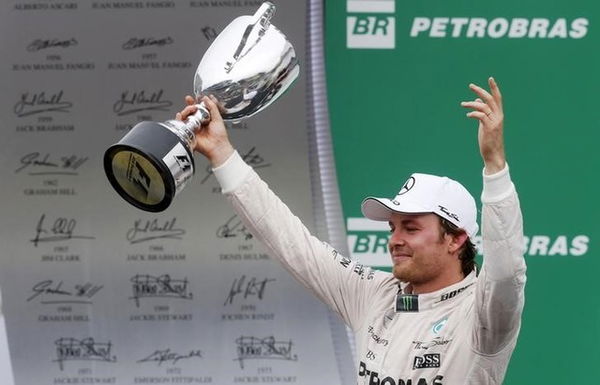 ---
---
LONDON (Reuters) – Nico Rosberg's Brazilian Grand Prix victory was not much of a thriller, even for Mercedes bosses who never tire of dominance, but next week's Abu Dhabi finale could be all the better for it.
ADVERTISEMENT
Article continues below this ad
With both titles long decided, and Rosberg now sure of second place overall behind triple world champion team mate Lewis Hamilton, Formula One's dominant team can afford to loosen up a little.
"It's one-two in the championship, we've secured it. it's now gloves off for Abu Dhabi," said Mercedes motorsport head Toto Wolff immediately after Sunday's race.
ADVERTISEMENT
Article continues below this ad
That may not prove entirely the case, with Mercedes always wanting a one-two and the Austrian leaving no doubt that the team would continue to make major strategy calls, but there is room for hope.
Hamilton has his third title, pole trophy and 10 wins from 18 races but he will still not want to see Rosberg wrap up 2015 with a streak of six successive poles and three wins in a row.
The importance of momentum can be exaggerated but Rosberg, and Formula One as a whole, needs to believe the German can take the fight to Hamilton from the start of next season rather than going missing again.
Two successive wins have revived Rosberg's morale and a third would bring at least some bragging rights, however temporary.
"Whoever is going to win the last race has a little benefit into December," commented Mercedes non-executive chairman Niki Lauda, a former triple champion. "Then you forget it anyway because next season is all a new start for everybody."
Rosberg's return to form has shown he can channel anger and frustration into something more positive.
The German's win at Interlagos gave him a 100 percent pole and win record since Hamilton wrapped up the championship in Texas last month thanks to a late error by his team mate.
That defeat in Austin, coupled with a first corner clash and Hamilton's withering response to his rival's anger, seems to have had an effect.
It may be that Hamilton's attention has waned since Texas, the Briton conceding he might have overdone the partying, while Mercedes made clear their priority was to help Rosberg finish second overall.
ADVERTISEMENT
Article continues below this ad
But even if those factors helped, something also changed in the German's mindset.
"Austin was very tough because of losing the championship," he said in Brazil, looking back at what may come to be seen as a watershed.
"When I got to Mexico, the new motivation was there… some of the things Lewis said after Austin gave even more motivation to come back and beat him. I was raring to go again," he told Sky Sports F1.
ADVERTISEMENT
Article continues below this ad
"I am definitely ready to fight for it (the title) again… gutted about this year, the way I lost it and happy that there's another great opportunity coming next year which I'm sure there will be because we'll have a great car again."
(Reporting by Alan Baldwin, editing by Pritha Sarkar)