Rumors Suggest A Reappearance of Thanos in Fortnite Next Season!
Published 02/26/2021, 6:01 AM EST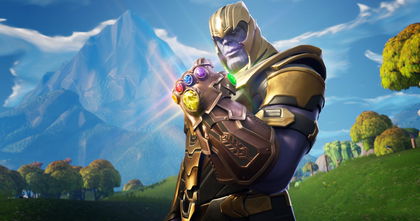 ---
---
Fortnite is perhaps one of the most iconic Battle Royale titles of all time. Epic Games simply knows how to keep its community happy and has constantly been doing so with its crowned jewel of a game. With many partnerships and collaborations, leading to the addition of characters, contents, and Easter eggs, Epic has brought together many pop-culture fandoms.
ADVERTISEMENT
Article continues below this ad
Currently, Fortnite is a dream come true for superhero and pop-culture geeks, as this season has seen the arrival of many iconic characters in the game. In order to curb the issue of players complaining about the lack of action, Epic added the NPC feature. Certain NPCs, like The Predator, and The Mandalorian, appear in the game and grant you their mythic weapon once you defeat them. This is something that fans have absolutely loved so far.
However, the list apparently does not end with Mando and The Predator. Apparently, the mad purple Titan of Marvel Comics will grace the game yet again, this time as an NPC.
ADVERTISEMENT
Article continues below this ad
Further reading: "The Day Valorant Gives Me a Tbag Spray is the Day My Full Potential is Unlocked": Sentinels' Dapr on Twitter
Note that these are speculations among the community and inferences drawn from certain clues fans have found in the game files.
Thanos' recurrence in Fortnite might be a big possibility
ADVERTISEMENT
Article continues below this ad
Now, the reason we are taking this seriously, is that usually, the hunches of the community are never wrong. The current season in Fortnite is basically one of Boss Fights. Be it Mando, or The Predator, NPC boss fights have been a prominent feature in this season.
Fans found the main clue behind this in the game files. Recently, data miners and leakers have found the animation for an extra-large male skin in the game files. Apparently, devs have added this animation in the game build along with the 15.40 update patch.
Now, the only character in the game that has ever used an XL skeleton is Thanos. If the current in-game portal leads to the arrival of the Titan, it could mean that he would arrive as an NPC boss. If that is the case, perhaps the mythical weapon that players can get after defeating him would be his Infinity Gauntlet!
ADVERTISEMENT
Article continues below this ad
Again, these are majorly speculations based on clues. However, from the track record of the fans, we do hope this hunch is not wrong as well!