Russell Westbrook Reveals He Spoke to Michael Jordan and Kobe Bryant About Being Great in the NBA
Published 05/09/2021, 6:00 AM EDT
---
---
Russell Westbrook is one of the most dominant players in NBA history. Throughout his career, Westbrook has shown immense talent and athleticism, wowing the league. Westbrook regularly puts up incredible numbers and plays at the highest level possible. His work ethic and dedication to the game are unparalleled. And he says he learned how to be great through Michael Jordan and Kobe Bryant.
ADVERTISEMENT
Article continues below this ad
Russell Westbrook spoke to MJ and Kobe
Washington Wizards guard Russell Westbrook spoke to the press after their win over the Indiana Pacers. When a reporter asked Westbrook what has allowed him to maintain his success, Westbrook noted that it was his routine. He learned from an early age, through his parents, about the importance of a consistent routine. Westbrook also noted that he spoke to Kobe Bryant and Michael Jordan about what it takes to be great in the NBA.
ADVERTISEMENT
Article continues below this ad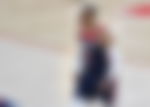 Westbrook sought out two of the most dedicated players in NBA history. During his time in the NBA, Michael Jordan gave his 100% regardless of the circumstances. Jordan didn't care if he was injured, sick, tired, or outnumbered. In fact, oftentimes, Jordan would take it upon himself to help out his team. Jordan was so committed to being successful that he didn't bother about the difficulties he faced.
Jordan and Kobe were warriors on the court
ADVERTISEMENT
Article continues below this ad
By himself, Bryant was one of the most driven athletes the NBA has ever seen. He would never give up and would never give anything less than his best. Further, Bryant spoke, on numerous occasions, about how Michael Jordan inspired not just his style of play, but his mentality. The two were practically identical in their play, but their similar mindsets also drew constant comparisons.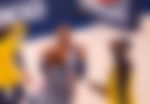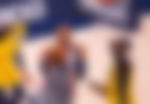 ADVERTISEMENT
Article continues below this ad
Russell Westbrook has been one of the most driven players in the modern NBA era. His ability to play excellent basketball on both ends of the floor is perfectly complemented by his work ethic. And while this hasn't always translated into team success, no one can ever accuse Russell Westbrook of not giving his all to the team and the game.