Ruud van Nistelrooy: Manchester United's Favourite Dutchman
Published 02/21/2018, 4:07 AM EST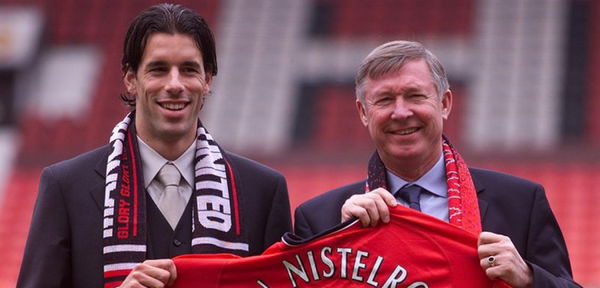 Ruud van Nistelrooy, One of the world's most feared strikers, also known as the 'Ruud Devil' is and probably will always be one of the most sorely missed footballers for all United fans all over the globe, especially in times like these.
ADVERTISEMENT
Article continues below this ad
Van Nistelrooy always was an amazing goalscorer, since his days at PSV. After two back to back Dutch League victories in which he scored 31 and 29 goals, Manchester United came knocking at the door. He was to be unveiled at a press conference four days later, but this was instead used to announce that the transfer had been postponed over concerns about his fitness, having not played for a month due to problems with his knee. A year later, he signed a 5-year deal with United for a then British record fee of £19 million. It was in fact Sir Alex's son, Darren, who convinced him to buy Nistelrooy after he saw him play as he himself was trying out for rival club Henerveen at the time.
After joining Man Utd, there was no stopping the Dutchman. He scored two goals in two minutes in his Premier League debut against Fulham, a match in which United came from 1-0 behind to win 3-2. His first hattrick also came in a few months' time as United demolished Southampton 6-1. He made his mark on the FA Cup too as he again scored a brace after coming on as a substitute to pull Man Utd from behind yet again to win 3-2 against Aston Villa. He went on to score in 8 consecutive matches in the Premier League on his way to score 23 goals in 32 appearances and it would be fair to say that he never looked back again.
ADVERTISEMENT
Article continues below this ad
"When it comes to losing with United, I feel solely responsible for it. I can't help it. My brain will work like mad after a defeat. I want to know where I have made the wrong decisions, how I could have changed things for this fantastic club."
In his subsequent seasons with Manchester United, he went on to break numerous records like scoring in 10 consecutive league games. He became the top scorer in the Champions League in back to back seasons. Van Nistelrooy also played a pivotal role for United in the match that later became known as the 'Battle of Old Trafford'. It was a controversial game including Arsenal captain Patrick Vieira being sent off for a second bookable offence. Van Nistelrooy too was booked for an incident and the referee Steve Bennett awarded Manchester United a penalty kick in the last minute of the match.
At the final whistle of the game, Van Nistelrooy was immediately confronted by Arsenal players Martin Keown, Lauren, Ray Parlour, Ashley Cole and Kolo Touré. Keown jumped up next to Van Nistelrooy and brought his arms down hard on the Dutchman's back, while Lauren pushed Van Nistelrooy in the back and Parlour and Cole offered verbal abuse. Van Nistelrooy did not react and was escorted away by Manchester United captain Roy Keane, but the incident escalated away from the two of them. In defence of their team-mate, Manchester United players Ryan Giggs, Cristiano Ronaldo, Gary Neville, Mikaël Silvestre, Quinton Fortune and Rio Ferdinand also became involved in the situation.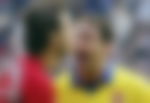 Players from both teams were charged by the FA for their reactions at the end of the game, five Arsenal players and two Manchester United players were forced to pay fines. In the post-match interviews, Van Nistelrooy was accused by both Vieira and Arsène Wenger of feigning contact to get Vieira sent off, while Sir Alex Ferguson vociferously defended his player and denied he had dived.
Van Nistelrooy's redemption came as he ended Arsenal's unbeaten run of 49 games in the game dubbed as the 'Battle of the Buffet' with his goal from the penalty spot. He already was an irreplaceable piece of the starting XI jigsaw, this made him a God for the fans.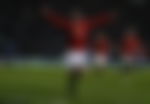 By February, 2004 he had already scored a hundred goals for the club. His Champions League performances continued to take breaths away. He became top scorer 3 times in 4 seasons even though United could only manage to get to the Round of 16 in one of the seasons. He had scored 4 in a game against Sparta Prague which United won 4-1. Van Nistelrooy is the fourth highest goalscorer in Champions League history with 56 goals to his name, a record he has achieved with a better goal per game ratio than Cristiano Ronaldo.
"My ambition is to combine the best of No 9 and No 10, as a striker who is also a team player and creator."
ADVERTISEMENT
Article continues below this ad
Apart from all this, Nistelrooy had his moments on the International scene as well. The most memorable of all of them being his revenge over Andorran centre-back, Antoni Lima. The penalty kick taken by Nistelrooy hit the post and got deflected out of the box while Lima taunted him for missing the goal. In the next move that the Dutch made seconds after that penalty kick, Nistelrooy latched onto the incoming cross and scored a beautiful goal completely dismantling the offside trap. He them went up to Lima and celebrated right in his face. Although he was booked for that celebration, it still is a proof of what strikers like Ruud van Nistelrooy can do to you.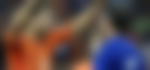 Ever since he arrived from Dutch giants PSV, van Nistelrooy never failed to live up to the hype that surrounded him and the expectations that the fans had from him. His ability to score when he wanted and whenever the team needed it the most stood out and his 'fox in the box' was another quality which earned him laurels throughout his career. His exemplary off the ball movement and swiftness in making runs in behind the defences always served as problems for the opposition defenders, even if he wasn't at his best. He was always on his toes and his instinctive eye for goal made him tuck away chances as if he wouldn't get any more of them.
ADVERTISEMENT
Article continues below this ad
He had a decent burst of pace up his sleeve to and often used it good effect. Ruud van Nistelrooy always had a typical swagger about him and was always very confident in what he did. All of this made him the central figure of a club of the highest stature amongst players such as Giggs, Scholes, Rooney and Ronaldo to name a few. His contributions made it possible for Manchester United to win the Premier League, the FA Cup, the FA Community Shield and the Football League Cup and won him awards such as the UEFA Forward of the Year, Premier League Player of the Year, Top Scorer in 3 different European Leagues and two-time winner of the Sir Matt Busby Player of the Year Award.
"Van Nistelrooy is a dying breed," Hugo Sanchez, the legendary Mexican forward, once said. Fabio Capello had this to say- "Ruud has been fantastic. Only a few strikers have his instinct in front of goal." It's hard for one to not like a player like Nistelrooy. And it's hard for the world to not miss a player of that kind of quality.