The Greatest United Goal: Ryan Giggs' Genius
Published 04/14/2016, 7:24 AM EDT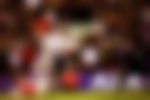 ---
---
ADVERTISEMENT
Article continues below this ad
It's pretty much impossible to summarize the breathtaking and awe-inspiring career of the favourite son of Manchester United, Ryan Giggs. It's been so long, so trophy-laden and so full of magical moments that it's next to impossible to embody it by any one passage of play. But if you are asked to sum up the flair and panache of this Welsh wizard, nothing aptly showcases his elegance and verve better than the historical 20 odd seconds of play by him on 14/04/1999 against Arsenal in the FA Cup semi-final replay at Villa park.
"He was 13 and just floated over the ground like a cocker spaniel chasing a piece of silver paper on the wind." said Sir Alex Ferguson about Ryan Giggs once.
ADVERTISEMENT
Article continues below this ad
That night at Villa Park was the credibility of these words by the manager, on a run past Dixon, past Keown and ultimately past David Seaman. It was so appropriate. The words described each and every moment of that Ryan Giggs run. The body movements. The sway of the hips. The tip-toed dribble. In April of 1999, Giggs was 25, but he still floated over the ground like a Cocker Spaniel.
That solo run, thumping strike and the T-shirt swirling celebration has become one of the most memorable and classic moments in the tournament's history. The ramifications of such a win, and the manner in which victory was achieved (read: snatched), were tremendous.
Up until then, Arsenal and United were fighting it out to win the two domestic trophies at stake, the FA Cup and the Premier League. United were also battling it out in the Europe as well. United had fought out a 1-1 draw against Juventus a week before in Manchester. A late-late Giggs equalizer to the rescue there as well. They were to face Sheffield Wednesday 3 days later on the 17th while a return leg in Turin against Juventus was beckoning as well, on the21st. It was a make or break period for United.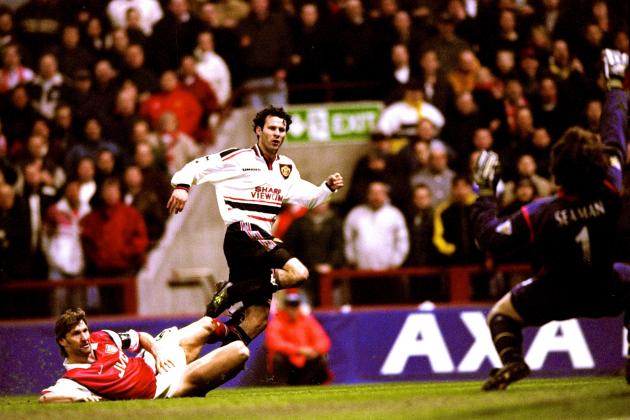 For the semi-final, Alex Ferguson had rested Andy Cole, Dwight Yorke and Ryan Giggs who amongst them, had contributed to 56 goals for United till that point in the season.
The game started with its trademark fervour and blood-thirsty tenacity to win. Beckham opened the scoring with a brilliant strike from outside the box. That goal, in itself, was a marvelous one. Not only was it beautiful, it broke Arsenal's 7-hour long defensive stand-off. A vintage Beckham special. Solksjaer came close to doubling the lead in the second half for United as well.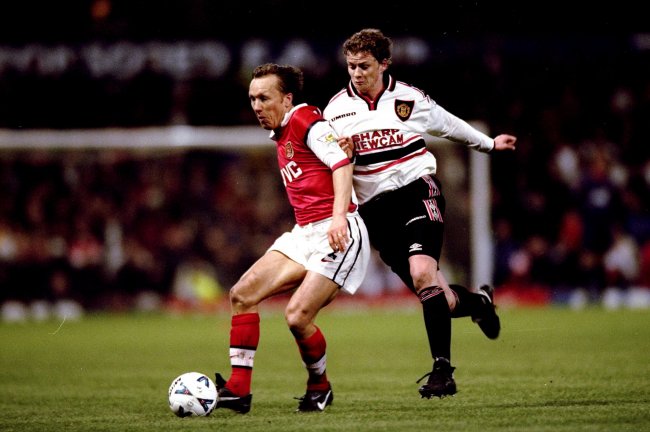 Then  Arsenal struck in the middle of the second half withDennis Bergkamp's deflected strike beating Schmeichel from long range. And with the introduction of Marc Overmars, Arsenal went into ascendancy. Nicolas Anelka's strike was rightly ruled offside. Keane was sent off shortly after for a dreadful second bookable offense and United, who had made a habit of making comebacks during the season, were looking down the barrel.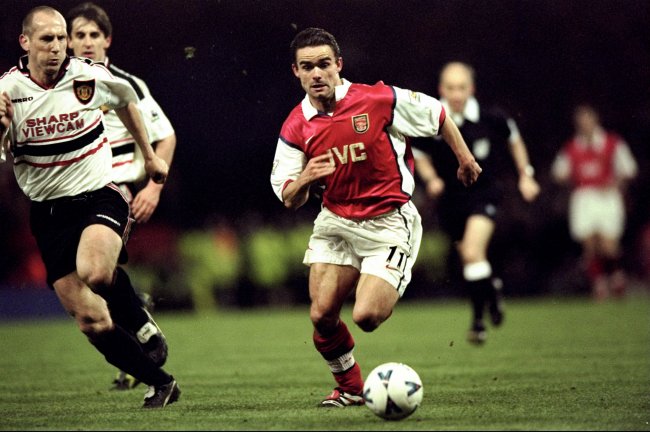 The moment which turned the complexion of the game came in the last minute of the match. Phill Neville's tired and weary tackle had conceded a penalty to Arsenal and Dennis Bergkamp was all set to score the winner. In stepped Peter Schmeichel, the Great Dane, and his right hand thwarted Arsenal from going to Wembley.
20 minutes later, with the tie in extra time,  Patrick Viera, Arsenal talisman and symbol of their side of the fight between the two clubs, as Roy Keane was for United, wearily attempted a pass across the ground to someone in Arsenal red. The ball fell to Giggs and he went on an unstoppable, unprecedented run. The Jugular.
By the end of the run, the North London half of the stadium was left stunned in silence, contemplating what hit them. While, the Manchester half of the stadium was rejoicing, for they had witnessed an improbable comeback against all odds. Down and out against their fiercest and closest rivals, the killer blow by the United No.11 was not anticipated and when it happened, was never seen before. It was never to[tps_header][/tps_header] be seen again, either.
The goal was a fitting tribute to the last ever FA Cup Semi Final replay. It was a fitting end to the changing millenium. It was also a fitting description of the quality of Ryan Giggs. If someone asks: "What kind of a player Giggs was?", this 10-20 seconds of footage will quench his thirst.
Not only did United go on to win the FA Cup but Wenger says it also gave them a vital edge in the Premier League title race. They eventually finished above Arsenal by a single point. And a week after the improbable triumph at Villa Park, United recovered from two goals down to beat Juventus in the Champions League semi-final and later staged another incredible comeback to beat Bayern Munich in the final. United did the Treble. Arsenal won nothing.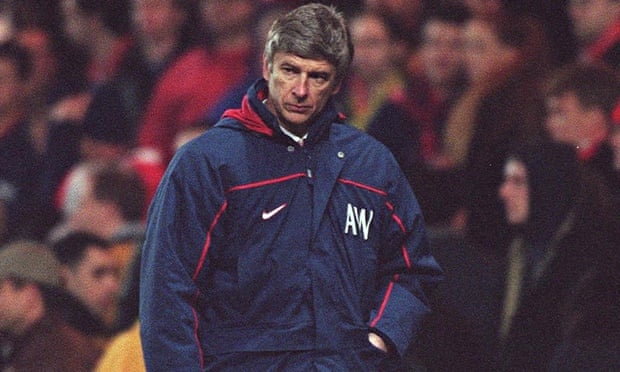 "Giggs's goal was what decided their season. I think that goal won them the Treble because if Bergkamp scores I think the game is over. It was a trauma for us. Bergkamp never again wanted to take a penalty and it put them on the road [to the Treble]. I can still hear the shouts of their team having won, they couldn't believe it because they were down to 10 men. And I think that put them on a wave of euphoria and then they won the title – just."
– Arsene Wenger (Arsenal's manager)
By the time Giggs' goal came around, the replay was hardly the clash of attack versus defence that the sides' respective goal difference would have indicated. After Keane's red card, it was Arsenal on the front foot.
As Daniel Harris describes in his book about the 1998/99 season The Promised Land:
"Arsenal pushed forward seeking a winner. United attempted to hang on for penalties, [Dwight] Yorke loitering around upfield and everyone else massed around their box."
The pre-Giggs goals were also classics. Hadn't it been overshadowed by the extra time sensation, Becks' goal would have garnered the same publicity that Giggs' goal gathered.It was as Beckham-esque as Giggs' goal was Giggs-esque. It looked almost like a free-kick from open play, as Teddy Sheringham gathered the attentions of Arsenal's defenders, then found Beckham in space. There may not have been another player on the pitch who would have found the same finish as United's superstar.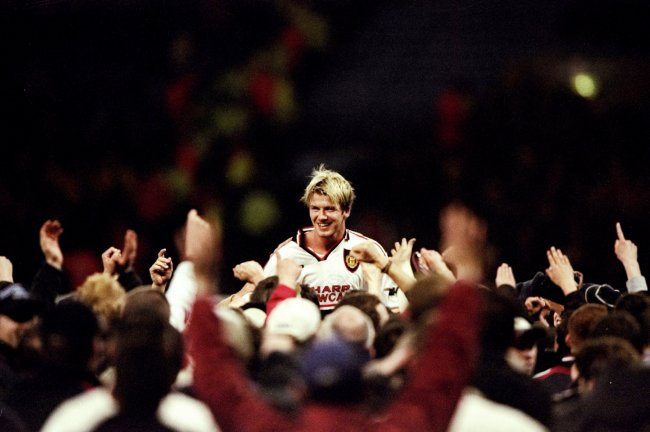 Bergkamp's effort  was another fine long-range strike, but it took a heavy deflection off his compatriot Jaap Stam. That it beat Schmeichel, then, contained an element of good fortune.
So it becomes a matter of great curiosity that why Giggsy's goal, albeit spectacular, is so awe-strikingly beautiful that other eye-catching strikes from the same match were masked by its magnificence.
Why?
Ryan Giggs scored the goal in extra time. His side were reduced to 10 men. It was an FA Cup semi-final replay and United were chasing the impossible dream of the Treble. Giggs chose the perfect stage at the perfect time to unleash his inner footballing flair and joie de vivre. He let his instincts take him over and what the world witnessed thereafter was Pure, Anadulterated Ryan Giggs.
His celebration is, of course, an iconic image, with joy and chest-hair unconfined, in a manner which was not yet a bookable offence. It is no wonder he celebrated so wildly, given what he had just accomplished.
After the game, Ferguson delivered one of his all-time great post-match interviews to ITV Sport. Gary Newbon began the discussion by saying
"This isn't what you needed really, you needed a result but you didn't need extra-time, 10 men, a real battle like that?"
Ferguson replied:
"Look, who's to know what's gonna happen in football, Gary. It could all blow up in our face at the end of the day. But can you forget moments like this? Our supporters will be talking about that for years [17 years later he is proved definitively correct about this assertion].The players will be talking about that for years, that's what football's about. Trying to reach peaks and climaxes to a season, which we are doing at the moment. We're in a final, we've got something in the bank for ourselves, now we go and try and win this league now."
ADVERTISEMENT
Article continues below this ad
That Ryan Giggs' goal didn't literally win the Treble for United. On the face of it, it didn't even win a single trophy for them in reality. It was just a winner in a semi-final game. It was only a ticket to the final. Indeed, it wasn't a goal, worthy to win a trophy for trophies are materials and this goal was a fleeting emotion.
An emotion defining a generation and an idea. And it still does. Those 10 seconds of a tipsy-turvy mazey run narrated the Busby era and the Ferguson era, that '98-'99 season in particular, in full aplomb. That strike. That rocket. That thump, resounded the roar of The Red Devils which reverberated throughout the globe for years to come.
This moment of magic from Old Trafford's most favourite of sons was one of the sweetest and will always be remembered for the rest of the days.
A breathtaking goal, from a breathtaking player, scored in a breathtaking game, played in United's most breathtaking season.
Ladies and gentlemen, Ryan Joseph Giggs.
ADVERTISEMENT
Article continues below this ad