Should Ryan Giggs be the next United manager?
Published 12/11/2015, 12:09 PM EST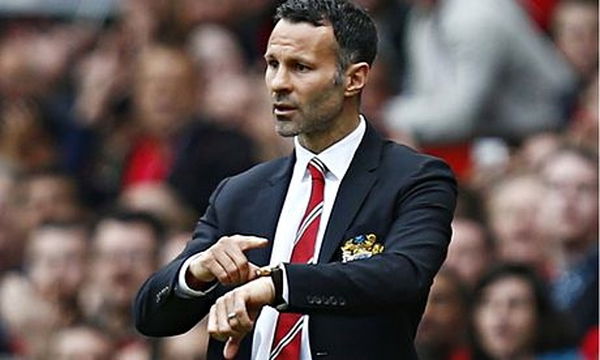 ---
---
Louis Van Gaal is almost halfway through his three year contract at Manchester United and it's likely that the Dutchman will vacate the Old Trafford managerial seat in 18 months time. And Ryan Giggs might just be replacing him.
ADVERTISEMENT
Article continues below this ad
The term "right choice" is invalid when considering a manager, you cannot make a wrong choice; everything is subjective to the conditions. If Manchester United were to re-appoint Sir Alex Ferguson as a young man coming from Scotland now, there is less of a guarantee of success because the factors that determined that success are different. Everyone has the credentials to be a success and everyone at some point is the right choice. There are only two things that matter while choosing the next Old Trafford juggernaut and those are leadership & timing.
Our only basis to consider Ryan Giggs is in relation to his short spell as interim manager after the departure of David Moyes. The first thing the Welshman did was consult Sir Alex Ferguson & media consultants to ensure he portrayed an image fitting of a Manchester United manager in his first press conference demonstrating a high level of forward thinking.
ADVERTISEMENT
Article continues below this ad
"It's going to my philosophy – the Manchester United philosophy, as I've been here for all my career. I want players to play with passion, speed, tempo, be brave, with imagination, all the things that are expected of a Manchester United player."
Many have questioned Ryan's ability to deviate and develop in a tactical sense, and perhaps that could be true. But if we look at how he transformed from a flying winger to a technical central midfielder during his career, then that shows that he always had an eye for improvement. There is also evidence to suggest he isn't the type of person to 'hide' or make excuses, Giggs deals with the threats surrounding his success effectively and this can be seen in his decision to stop driving sports cars at a young age due to the effect it was having on his hamstrings. Would any young players today, after becoming engulfed with wealth, step back in such a way? Unlikely. We can also look to the fact that his career prolonged due to his devotion to Yoga.
Simply put, Ryan doesn't let anything stop him from achieving success.
Sentiment, is it valued in football anymore? Probably.
Sir Alex had said during his first press conference, "So many people all over Britain have a care for Manchester United, a tremendous care, a concern for them and want to know how they're doing and want to know and hope they're doing well."
Sport itself fits into a world consisting of drama, real emotion and passion. It is a world where a single loss is enough to make grown men cry and where a win will have you dancing on tables – everything in football is hyper real.
The point is simple; in order to be successful you don't just need to be passionate about your goals, you have to bleed sentiment for the cause. Look at the greatest managers and players in history – many of which were devoted to one club for the majority of their careers. Sentiment will play a part in measuring success.
I was at Old Trafford the day Ryan Giggs stepped onto the Hallowed turf as Manchester United manager on April 26th. What I heard, what I felt. it wasn't a relief regarding the departure of Moyes, it was endless admiration, love and hope. But above all of that, it was a feeling of triumph – Ryan Giggs didn't feel like a choice, it felt like destiny.
If you had recently watched the Sir Alex documentary on BBC, you will have seen that Ryan Giggs is fuelled from pressure and doubt. If Sir Alex always helped Giggs by grilling outbursts at him, then he would have no reason to suggest that 'Ryan has all the qualities to be a fantastic manager'. Instead, he would be telling the world that perhaps, Ryan hasn't quite got what it takes. My point is that for Sir Alex to go against his encouragement methods, which have stood by Giggs for 20+ years to tell us he is the man, then surely that means something.
But there is one telling option in all of this, one way to make a judgement and that is leadership.
Ryan has been the face of Manchester United since the departure of Cantona, he has been a leader on the pitch and off the field, and he is considered the greatest British player of all time.
If you have had the privilege to meet Giggs or even seen the class of '92 documentary, you will see that not only does Giggs demand respect for who is, but he has been and will always be the alpha male.
Noticeably, some will point to Sir Alex Ferguson's lack of producing world class managers from his playing and coaching staff; Rene Meulensteen, Steve Mclaren, Carlos Quiroz, Mark Hughes, Steven Bruce, Roy Keane – the list goes on.
But, my rebuttal to that is that Ryan Giggs is being taught by a man who has overseen the progression of Pep Guardiola, Jose Mourinho, Luis Enrique and to a certain extent, Ronald Koeman. Not to mention having league winners play under him such as Frank De Boer and Philip Cocu.
In fact, Van Gaal's first spell at Barcelona is often regarded as the best and most eye-opening lesson into the history of coaching.
Three of Van Gaal's students manage Bayern Munich, Barcelona and Chelsea.
As a coach, Van Gaal trains his players to think about the game – "I train the players in their brains, not their legs. It is about brainpower."
Ryan Giggs has always had the mindset to develop and learn, which means that the approach used by Van Gaal is a perfect fit for Giggs and those lessons on not tactics, but the attention to detail, are transferable. Combine that enthusiasm to learn with the personality of Ryan Giggs and the puzzle starts to fall into place.
ADVERTISEMENT
Article continues below this ad
Van Gaal, to some extent, is the godfather of European football, one of the pioneers to bring contemporary European football to the forefront of the sporting world, especially when you take into account the calibre of the managers he has mentored. So surely working under both Van Gaal as the master of detail in the game and Sir Alex Ferguson, the greatest leader this sport has even seen will lead to Giggs having a very real opportunity at becoming a world beater as a player and as the next leader of Manchester United.
The timing, well, it cannot be predicted. None of us can, until the moment arises. But given the right environment, Ryan Giggs can lead this club into the next era of success.
Perhaps some are right in that he needs to prove himself, he needs to be successful elsewhere to be successful here. But that's not a notion everyone agrees with. AVB was not successful in England like he was in Portugal, Steve McClaren was not successful in England like he was in Holland, even the great Fabio Capello was not a success on the international stage as he was within club management.
ADVERTISEMENT
Article continues below this ad
Past achievements are lovely for the CV, but the environment and timing are what takes lead above all else.
Consideration is a necessity, if nothing else.