'Hands Are Wrecked'- Bryson DeChambeau Explains Grueling Training Routine Ahead of Ryder Cup and World Long Drive Championship
Published 09/14/2021, 1:45 PM EDT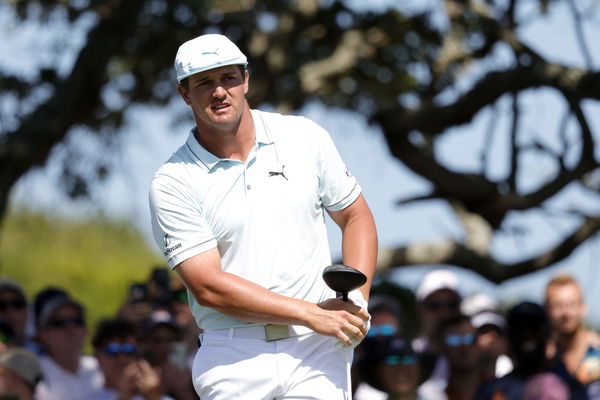 ---
---
Bryson DeChambeau is currently preparing for the upcoming Ryder Cup. However, apart from this prestigious event, he is even preparing for an event where no other Tour pro has ever competed. And the event is none other than Professional Long Drivers Association World Championship, which is all set to begin on September 28.  
ADVERTISEMENT
Article continues below this ad
However, Bryson is not going to give up his PGA Tour career for this long drive circuit. His Tour goals are still his priority. Meanwhile, other Tour pros mainly focus on winning the FedExCup and a major in a season. But there is something about going head-to-head against other golfers with a driver in hand. And that's what gives DeChambeau immense satisfaction.
ADVERTISEMENT
Article continues below this ad
"It's more of an arena environment with massive speakers pumping music and energy drinks to get you amped up," DeChambeau told GOLF.com. "We're going up against the next guy. It's not necessarily playing against the golf course; I'm trying to be faster than that guy. It's a head-to-head competition, which I personally like and enjoy."
Bryson DeChambeau is the first full-time Tour pro who will compete in the long drive event in Nevada. Meanwhile, Bryson has aspirations of competing at the highest level in both arenas. Moreover, he has even started his preparation for it by increasing his speed training sessions.  
"I do it every week," says Bryson DeChambeau
Even with the Ryder Cup approaching, DeChambeau doesn't anticipate slowing down with his speed training. Moreover, when he was asked about how he is going to handle balancing Ryder Cup with speed training: "I do it every week," DeChambeau said. "Is it daunting? Hell yeah. At first, when I was trying to do it last year, it was very scary."
ADVERTISEMENT
Article continues below this ad
"But now that I've been through it and experienced the worst pains from it, and the most relaxed state of it where I'm not doing any speed training, I know how to kind of balance it — for the most part. Why not go hard at life and do both?"
"My hands are wrecked from it," DeChambeau added. Moreover, the driving distance gives Bryson an advantage on most of the tournaments on Tour. But there is a difference between "Tour long" and "Long drive long." Hence, Bryson is putting in more effort and the tape on his hands from his speed training sessions confirms the same.
ADVERTISEMENT
Article continues below this ad
Meanwhile, it will be interesting to see what changes will this speed training bring to his usual Tour game. Even though he is using different equipment for a long drive event, it will certainly affect his swing speed in the usual Tour game. Moreover, his primary challenge now is not to allow the speed training to affect his Tour game adversely.