Why Sainz' stay at Toro Rosso is hurting his career
Published 12/16/2016, 7:12 AM EST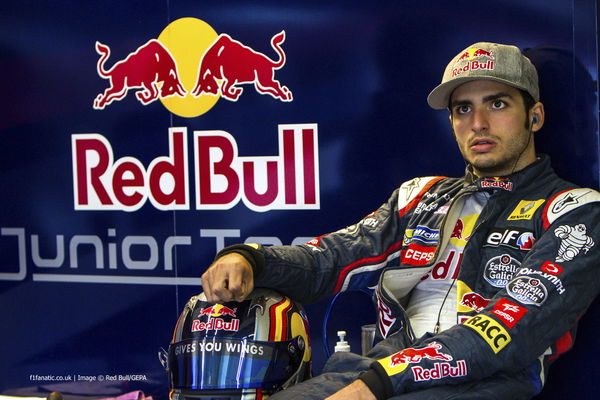 ---
---
After Nico Rosberg shocked the entire F1 paddock with his retirement, the entire winter break has become tad bit more interesting with most drivers already having a contract and thus leaving Mercedes with little options to explore, hence initiating a tale of Musical Chairs. As proclaimed by Niki Lauda, Rosberg has made Mercedes look absurd and stupid as they hunt for their second driver to partner Hamilton.
ADVERTISEMENT
Article continues below this ad
With Mercedes reluctant for young Wehrlein to jump in, rumors initially pointed out at Hulkenberg but the deal was blocked by Renault. Then came Valtteri Bottas who would have been a perfect fit, but Williams is believed to have blocked that deal as well. The rumor mill then pointed at a rather unexpected name: Carlos Sainz Jr. The Spaniard had a decent debut at Toro Rosso last year and managed to come out of the shadow of his hyped (and for all the right reasons) team mate, the then 17 year old Max Verstappen.
After the rumor mill warmed up with Sainz being under Merc's radar, Christian Horner was quick to respond to the media that Red Bull won't allow him to move anywhere.
ADVERTISEMENT
Article continues below this ad
"Why would we do that [let him go to Mercedes]? Carlos has done a great job. He is a Red Bull driver," Horner told the BBC.
"We have invested in him to get him into F1 and they are all on long-term contracts so it wouldn't make any sense to feed one of your main opponents with one of your assets. They will know the contractual situations of the drivers they are involved with but their choices are pretty limited."
"You give these guys a chance. Let's see what people can do in a front-running car."
"If they did take Wehrlein or Bottas, probably both of whom are capable of running right at the front, you just don't know until you give them the chance, which is what we did with Sebastian Vettel and Daniel Ricciardo."
"A lot of people were saying we should take Kimi Raikkonen at the time we took Ricciardo. Until you give them the chance, you don't really get to see if they can cut it at the front."
This potentially ends Carlos' dream hopes of getting into a Championship winning car as early as 2017 and it implies he gets to stay in Toro Rosso for another year surfing at the lower mid field while his former team mate, Max Verstappen will fight for victories and podiums (possibly).
Comparing the two in 2015, Max outscored Carlos 49 to 18 while Carlos lead 10 to 9 in Qualifying. Carlos had a pretty poor second half of the season with not just driver enforced accidents but also being caught by Renault's poor engine reliability. While Max was clearly the better of the two, Carlos was not much behind. 
Carlos has a string of drivers acting as precedents whose careers stagnated at Toro Rosso and their decisions to probably stay with the team for long hurt their career incredibly. Scott Speed, Sebastien Buemi, Jaime Alguesuari amongst other capable drivers who are now nowhere to be seen in F1  since the Red Bull team was tied strongly with Sebastian Vettel and Mark Webber at that time. Similarly Red Bull team is now tied strongly with Daniel Ricciardo and Max Verstappen until the end of 2018. And while Christian Horner and the rest of Red Bull bosses will block his move to not just Mercedes but other upper middle level teams like Williams and Force India if a seat comes there, the talent of Carlos Sainz fears to stagnate with Toro Rosso again.
ADVERTISEMENT
Article continues below this ad
The question comes why? One could argue that if Red Bull is not able to bring a car worthy of the championship, Daniel Ricciardo or Max Verstappen could soon fancy their chances to Ferrari (considering Kimi is on a yearly contract and Ricciardo has always been strongly linked with the Maranello team) and hence Red Bull would need Carlos to take up the drive.

Carlos, now 22, can probably survive one more year in a Toro Rosso. Post which his career faces the threat of stagnating beyond a point of revival. With drivers like Romain Grosjean, Sergio Perez, Nico Hulkenberg maturing to the peak of their careers and performance, new upcoming drivers like Lance Stroll, Pierry Gasly and Esteban Occon have shown immense talent and capabilities. The competition for every capable seat in the paddock will thus keep on increasing.
ADVERTISEMENT
Article continues below this ad
All Carlos can hope for is that there is a vacancy at the bigger Red Bull team very very soon or the management at Red Bull stops blocking his move to better teams than the Toro Rosso.