"Sam Darnold is the clear favourite-" Analyst Reveals why the Jets QB is ready to replace Tom Brady as best in AFC East
Published 05/28/2020, 4:51 PM EDT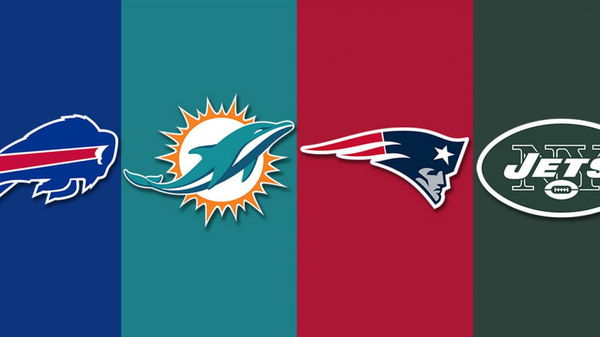 ---
---
For the first time this year, the NFL Draft proceeded virtually instead of in Las Vegas, with a record-breaking 15.6 million in viewership. Live reactions were broadcasted to the viewers' screens directly from the players' homes. With many new players drafted, the AFC East is going to look very different season.
ADVERTISEMENT
Article continues below this ad
It was the end of an era with star quarterback Tom Brady leaving the New England Patriots after 19 years, to join the Tampa Bay Buccaneers. The question remains – who will take his thrown as the best  Quarterback in AFC East?
Can Josh Allen Replace the former Patriots Quarterback?
ADVERTISEMENT
Article continues below this ad
Josh Allen
of the Buffalo Bills, Sam Darnold of the New York Jets,
Tua Tagovailoa
of the Miami Dolphins, and
Jarrett Stidham
are expected to start for their respective teams in AFC East for 2020. "
I think there is a lot to like about Jarrett Stidham. He is very good in the pockets and he works the ball between the numbers really well"
, said former quarterback and analyst Dan Orlovsky. However, the Patriots are in reset mode and their skill position is not great.
To all to this, "there is the unknown about Jarrett Stidham that as a fourth-round pick, you got to go prove it." Orlovsky thus wants to see Stidham perform awe strikingly, especially with the people he is around. With Brady gone, he might have to take the burden to carry on Brady's legacy upon himself. While New England still has Brian Hoyer to do this job, some believe that he might be up for the task.
Josh Allen, on the other hand, has his career trajectory heading in the right direction. "But I got to see him go over 60% completion percentage or throw for more than 3,500 yards…" Chris Simms told the NY Post that Allen has superstar qualities. "The stats aren't really going to tell the greatness of Josh Allen". Josh is becoming one of those players who you would be happy to have on your team. And with the Bills' roster, he seems to be in for some wonderful performances this season.
Why is Sam Darnold favorite to be the best QB in AFC East? 
Tua Tagovailoa, the Dolphins' top pick, seems to have caught everyone's attention. "He's a hell of a player. Miami, especially at the QB position, really needs that. They need a leader", said NBA player, Dwyane Wade.
The last 5th overall pick to Miami did some cool things. Congrts @Tuaamann can't wait to watch your journey.

— DWade (@DwyaneWade) April 24, 2020
ADVERTISEMENT
Article continues below this ad
Orlovsky thinks that Tua's strengths are the absolute necessities for a quarterback. Brian Flores, who arrived last year as Head Coach for the Dolphins, also seems to have a lot of hope riding on Tagovailoa. With everything appearing to fall into place for the Miami Dolphins, their 2020 season should be one to watch out for.
Sam Darnold of the Jets, however, is Dan's top choice among the four quarterbacks. "From week ten on, he was 6-2 as a quarterback" and he was among the top 10 in many stats. "The kid is going to be a special player", said Orlovsky. His team is also beginning to see how valuable he is and is building around that. "This guy can be our version of Ben Roethlisberger".
ADVERTISEMENT
Article continues below this ad
Who do you think deserves the mantle after Brady's departure?