Sandbox Player Does a Han Solo on Valheim
Published 02/22/2021, 1:02 PM EST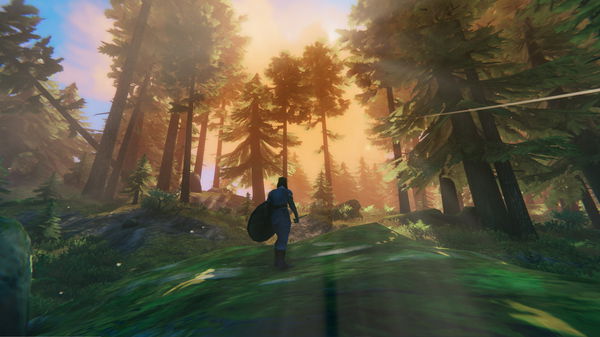 ---
---
If there is any fan base that a franchise can be proud of, its Star Wars. One of the most popular activity of any Star Wars fan is to recreate the Millenium Falcon where ever possible. Therefore, when it came to games with building mechanics, fans were not far behind.
We have seen Han Solo's scrap metal ship recreated in Fortnite's creative mode and in Planet Nomads. Since Valheim became a craze on Steam, it was not long before someone set in to do the hard work.
ADVERTISEMENT
Article continues below this ad
Iron Gate AB gave Early Access to Valheim on Steam recently, and it immediately took over the platform. The game reportedly sold 3 million copies in a little over two weeks. It also smashed the concurrent player numbers of popular multiplayer titles like Apex Legends and GTA V. It is not surprising that another survival game has taken over the charts this year. Rust set the tone in January, years after its release, with OfflineTV streamers crowding out the servers.
Reddit user Colonel-James-Parker, completed the Millenium Falcon in the survival sandbox and posted the results yesterday. The Falcon has never looked so warm and cozy, with wooden interiors and torch lamps illuminating the corridors. Have a look at the majestic creation below.
ADVERTISEMENT
Article continues below this ad
Valheim Falcon has the most impeccable details
In the Reddit video of the Falcon, we can see the attention to detail is enormous. Besides the fact that they made it out of timber, the replica resembles the original from the fan-favorite franchise in the truest sense.
ADVERTISEMENT
Article continues below this ad
The back of the ship has the best bit of detail. The makers have equipped it with green glow lamps that look glorious during the night. It resembles the original space blaster that glowed like a star before making a space jump.
The insides are wooden as well, with multiple torch lamps lighting up the short alleys which connect one part to the other. There is a ramp that will take players inside, and then they can navigate around the different rooms on the Valheim Falcon. There is a bedroom, complete with Viking decor, and an entire open cockpit to view the outside scenery.
After the success of the Falcon, we can expect more from this sandbox community, maybe even a Death Star. However, this stupendous feat only proves that Valheim is here to stay and more creative structures like these are yet to come. As we say this, there is already a player building a castle from Lord of the Rings.
ADVERTISEMENT
Article continues below this ad