Sandeep Patil: Ajinkya Rahane's Career on Right Path
Published 06/29/2015, 5:06 PM EDT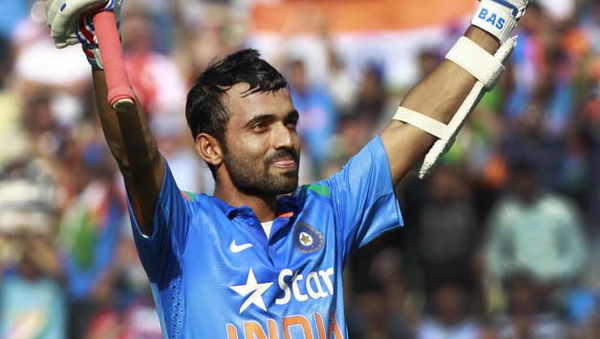 ---
---
It came as a surprising move to all Indian Fans when the man who was dropped from the last two ODIs India played was made the captain for the next 3 one day internationals. Such incidents rarely happen in sport, and whenever they do, they raise a lot of questions with them.
ADVERTISEMENT
Article continues below this ad
One such case has been the appointment of Ajinkya Rahane as India's captain for the one-day internationals against Zimbabwe.
When asked about Rahane's appointment as captain, Chief Selector Sandeep Patil said, "We're very happy the way his career is shaping up. He is one of the most consistent batsmen for India. That's why we want to see his other aspects. We have given him this opportunity and we'll definitely back him."
ADVERTISEMENT
Article continues below this ad
He further added, "If five of us (selectors) have decided to give the responsibility to Rahane, it means we are confident of his ability and we want him to do well and we would like to judge him also at the same time."
Whether Rahane can replicate his success in Tests in the shorter formats is something which only time can tell, but he can be rest assured that the selectors have full faith in him.
Team selected with World T20 in mind: Sandeep Patil
ADVERTISEMENT
Article continues below this ad
Patil stressed upon the fact that this team was selected keeping the 2016 ICC World T20, which is to be held in India, in mind. He said, "Like so many of you are of the opinion that the Indian team did not do well in Bangladesh, we felt the same. We have to move forward and, considering the domestic cricket to be played, we have picked this side also looking at 2016 Twenty 20 World Cup."
When asked about giving the senior players rest for the Zimbabwe tour, Patil was of the view that it was much needed and it was done keeping the future series in mind.
"We had picked the best possible team that played at the World Cup, and keeping the future series in mind – whether it is Sri Lanka or South Africa home series, Twenty20 World Cup or the Australia series – we have decided to rest a few players who need urgent rest."
ADVERTISEMENT
Article continues below this ad
MS Dhoni, Rohit Sharma, Suresh Raina, Virat Kohli and Shikhar Dhawan were the players who were rested.