Sanjay Bangar to end his stint as India's assistant coach?
Published 07/12/2019, 2:23 PM EDT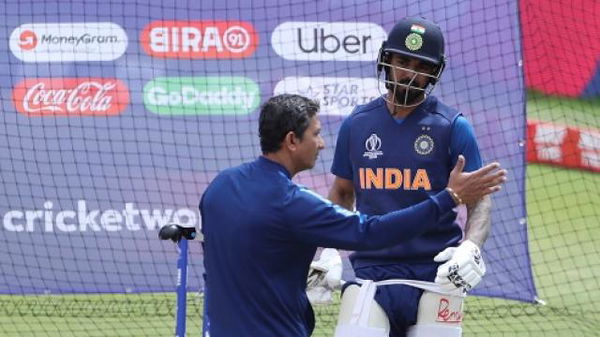 ---
---
Indian coaching staff, along with head coach, Ravi Shastri, got a 45 day extension to continue in their respective roles after India's disappointing exit from the ICC Cricket World Cup 2019. While there is no clear information on their further continuation, it is expected that Sanjay Bangar, who is currently India's assistant coach might not continue in his position.
ADVERTISEMENT
Article continues below this ad
Speaking to IANS, a senior BCCI official said that even though it was a good tournament apart from one game, there would be tough introspection before further extending the contracts of the support staff.
"It was a constant struggle," the official said. "While we are all supportive of the players and they had a good tournament with the exception of this bad day in office (semi-final against New Zealand), the support staff's processes and decision-making will surely be scrutinized thoroughly prior to any decision being taken about their future."
ADVERTISEMENT
Article continues below this ad
The official further iterated Sanjay Bangar's carelessness while speaking to the media.
"Also, it was pretty ordinary stuff when you had Bangar stating to the Indian media contingent that every player was available for selection when Shankar was ruled out early next morning on account of an injury sustained earlier on tour. Things have been somewhat disorganized when it comes to the assessment of performances of the support staff being made by people who were keen on having select individuals continue in their positions," he said.
ADVERTISEMENT
Article continues below this ad
While Sanjay Bangar is officially the Assistant coach, he is in fact the batting coach of the team with Bharat Arun and R. Sridhar being the bowling and fielding coaches. India have improved significantly in the bowling and fielding departments, but have failed to solve the middle order crisis which has been prevailing over the Indian team for a while now.
The source also told IANS that a few batsmen who were struggling for runs had to approach former batting stars ahead of the batting coach.
"Without taking names, it is well documented that a couple of current team members have spoken about how they approached some of the former India batsmen to help them erase flaws in their batting when they were having issues scoring runs," the source told IANS. While it is not wrong to approach the batting greats who have been there, done that, this might also signify the batting coach's inability.
ADVERTISEMENT
Article continues below this ad
While Sanjay Bangar's stint as assistant coach is speculated to end after the 45 day extension period, it is interesting to see what other changes take place behind the Indian Cricket Team.