Sardar Patel Stadium (Motera): All You Need to know about the Ahmedabad Stadium under Renovation
Published 12/03/2019, 12:00 PM EST

Follow Us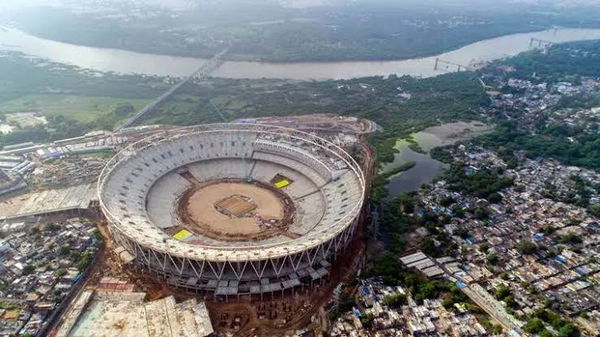 Cricket fans await the opening of the renovated Sardar Patel stadium in Ahmedabad as it is set to have a capacity of holding more people than any other cricket stadium in the world.
ADVERTISEMENT
Article continues below this ad
The stadium was renovated under the supervision Australian company Populous, the same architect who was responsible for building the current largest stadium in terms of crown capacity- the Melbourne Cricket Ground (MCG) in Australia.
After renovation, the capacity of the Sardar Patel Stadium is set to be the 1,10,000, which is 10,000 more than MCG. Spread across 63 acres, the 1,10,000-seat capacity is almost double that of its old capacity.
ADVERTISEMENT
Article continues below this ad
The old stadium, that had a seating capacity of 53,000, was pulled down in 2015.Larsen & Turbo (L&T) had taken the up its renovation project for which the foundation stone was laid at the turn of 2017, and is set to be completed in another 5-6 months according to the Gujrat Cricket Association's (GCA) vice-president Dhanraj Nathwani.
"It may take another 5-6 months' time to fully complete the project," Mr. Nathwani told the Indian Express.
He further said: "GCA is preparing 11 cricket pitches at the world's largest cricket stadium. Some pitches will be prepared with red soil, while some will be with black soil and some may have a mix of both. There will be bouncy as well as spin friendly pitches along with sporting pitches based on the requirement,"
ADVERTISEMENT
Article continues below this ad
With an overall estimated cost of around 700 crore, the stadium will include 76 corporate boxes, four dressing rooms, state-of-the-art club facilities with three practice grounds, an indoor cricket academy and an Olympic-size swimming pool.
ADVERTISEMENT
Article continues below this ad
The old Sardar Patel Stadium hosted its first match in 1983, and since then, it has seen  12 tests and 24 ODIs. The stadium had witnessed to of the iconic moments in Indian cricket- when Shuni Gavaskar became the first cricketer to score 10,000 runs in Test Cricket, and when Kapil Dev became the highest wicket taker in Test Criket by going past Richard Hadlee's 432 wickets in 1994.
The new Motera is expected to be inaugurated with an exhibition match between Asia XI and World XI in March 2020.