'Schoolboy' Hands Larry Wheels Another Crushing Defeat in Arm-Wrestling Showdown
Published 01/08/2022, 1:36 PM EST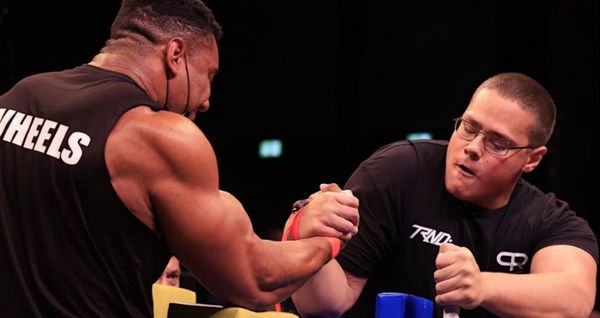 Larry Wheels holds the world record in powerlifting. Now 27, he began training when he was merely 14 years old.
ADVERTISEMENT
Article continues below this ad
Also popular as a social media influencer, Wheels has a Youtube channel, where he uploads powerlifting and weightlifting videos regularly. Currently, he has a record of 1075kg/ 2370 lbs at 308 lbs bodyweight, which includes 870lb squat, 645lb bench, and 855lb deadlift press.
ADVERTISEMENT
Article continues below this ad
Recently though, 24-year-old Schoolboy has defeated Wheels yet again in an arm-wrestling match.
Yet another defeat for Larry Wheels
This was a much-awaited match on both Wheel's side and Aleksandr "Schoolboy" Beziazykov's side. One year earlier, Wheel was already defeated by Beziazykov. Hence, Wheel was looking forward to this re-match with Schoolboy.
Schoolboy defeated Wheels in both the left-handed and right-handed arm-wrestling matches, establishing his supremacy once again.
However, Wheels is said to have defeated Schoolboy backstage in another match. The two of them competed before the official match, where apparently Wheels defeated Schoolboy, showing that his time was not over yet.
 

View this post on Instagram

 
The match which was held on May 28, was posted on Wheel's own Youtube channel. Before we claim Wheels as the loser, the fact that arm wrestling is not his forte must be considered.
Larry Wheels trains specifically for powerlifting, and arm wrestling is just something he likes to try his hand in. However, for Beziazykov, arm wrestling is his profession and axiomatically, he's better skilled at it. Schoolboy is currently ranked No.2 in the United Rantings of Professional Armwrestling.
As an athlete, Wheels is adventurous and likes to try his hand at various sports, a display of his versatility.
Wheels giving his best to get back
As a social media influencer, Wheels takes to his Instagram to often post photos and videos of his practice and workout routine. In his latest post on Instagram, Wheels flexed his strength on a set of bar weights.
ADVERTISEMENT
Article continues below this ad
The world record holder is currently recovering from an injury. In the video, he is seen giving his all to regain his strength. The bar was stacked with a massive 317.5 kilograms, which is 700 pounds.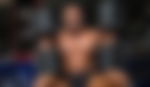 ADVERTISEMENT
Article continues below this ad
He captioned the video, "Safe to say, I am fully recovered," meaning that Wheels is back to the grind and ready to knock out his competitors.