Sebastian Vettel: "I've Got Balls But None of them are Crystal"
Published 09/06/2019, 3:53 AM EDT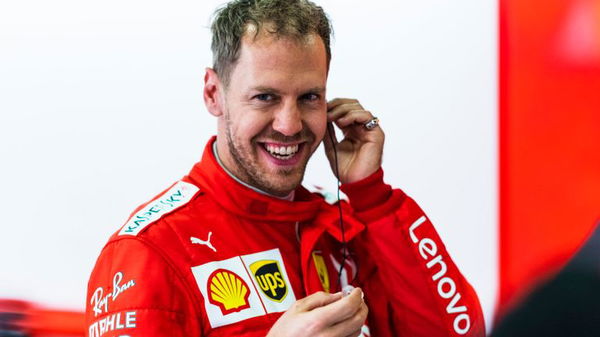 ---
---
Ahead of the Italian Grand Prix, Ferrari driver Sebastian Vettel was at his cheeky best. When asked about the team's confidence heading into their own turf, he admitted that it was worth it to get the fans excited.
ADVERTISEMENT
Article continues below this ad
When reporters asked if they will be excited after Sunday's race, he admitted that he cannot predict anything. He then cheekily said, "I've got balls, but none of them are crystal", prompting laughter.
He then went on to talk about Charles LeClerc's maiden win and what it meant for the Ferrari team. Sebastian Vettel admitted that that weekend was a horrible one for every driver, owing to the circumstances. So, the tragedy of Anthoine Hubert's passing took away some of the shine from the win.
ADVERTISEMENT
Article continues below this ad
However, he also said that LeClerc is still young and he will have plenty of wins to celebrate. Though he did say that that first win is always unforgettable and he praised the Monegasque driver.
Unfortunately for the German he is now trailing rival Lewis Hamilton by 99 points in the championship. Hamilton himself appears to be on course to claim his sixth world title of his career. The 4-time world champion also affirmed that it was important to work in tandem with his teammate to mitigate the gap that Mercedes have in the championship.
ADVERTISEMENT
Article continues below this ad
"Our car is not where we want it to be," said Vettel. "[We don't] have the car and ability to win every race so far and that is our objective, so I think it serves [Charles and I] if we push in the same direction, because I believe one day we will have that car and then we can fight it out.
"From a team point of view, I think the most important thing is that we work together, not against each other… Otherwise it would be a bit of a waste of energy.
"Obviously we've started off in a good place for the second half and hopefully we can keep that up. But we know also being realistic that Mercedes are the clear favourite. As I said, they've been in a position to win every race this year. That's something we haven't been, and we need to get there. That's the point."
ADVERTISEMENT
Article continues below this ad