Sebastian Vettel Reveals Max Verstappen, Kimi Raikkonen and Lewis Hamilton Never Returned His Christmas Card
Published 12/18/2019, 4:33 AM EST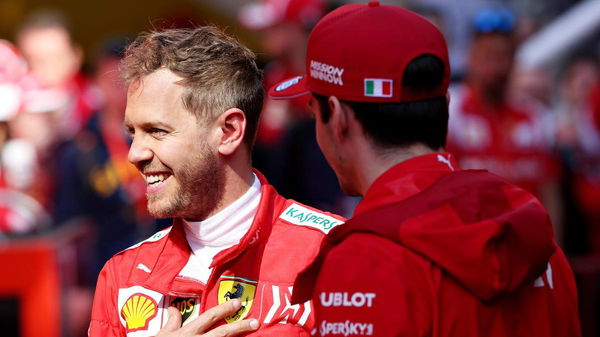 ---
---
Sebastian Vettel has revealed that Lewis Hamilton, Max Verstappen and Kimi Raikkonen did not return Christmas cards last year. During the main holiday of the year, it seems that Vettel was the only one spreading the Christmas Cheer.
ADVERTISEMENT
Article continues below this ad
Interviewed by Blick Newspaper, Vettel revealed that none of the drivers he sent a card to, had returned the gesture. Surprisingly, Raikkonen had not replied. The two were teammates for four years and are very good friends. Perhaps Kimi had enough of the spotlight and wanted time off.
Vettel's Christmas Plans in 2020
ADVERTISEMENT
Article continues below this ad
When asked about what is his card-giving plans for Christmas 2019, Vettel's list includes a surprise entry.
He has said that Hamilton, Verstappen and Raikkonen will be getting Christmas cards once again. It's the same as last year. This time he expects no reply card back from any of the three. The one driver getting a proper present is Charles Leclerc, Vettel's teammate in 2019.
Given their on-track bust-ups and strained relationship over the past year, it would not come as a surprise that either is left out of the other's Christmas gift list. However, Vettel has confirmed that Charles will get a present from his this year. Leclerc's present is a mystery and Vettel intends it to be a total surprise. Perhaps their relationship hasn't deteriorated that badly, or Vettel intends to patch things up.
Sebastian has been known to send Christmas cards to fellow drivers. Daniel Ricciardo has revealed he misses Sebastian Vettel's handwritten Christmas cards. Drivers are not the only ones receiving them. Last year, he sent cards to thank his team for the work that they put in. It's surely a well-appreciated gesture.
It's a nice touch from one Formula One's most successful drivers, to spread cheer to his rivals after the season's end. This year, everyone will want to know what present Charles Leclerc gets from his teammate. Also, if the other drivers will finally return a card to Sebastian Vettel this year.