Sebastian Vettel: "There's a lot of work for Ferrari to do"
Published 04/28/2019, 12:43 PM EDT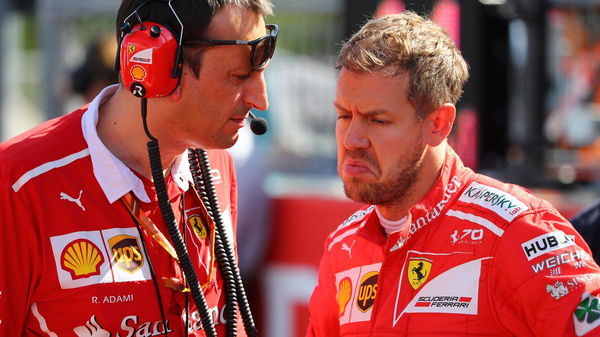 Upon the completion of round four of the 2019 season at Baku, when asked about his impressions of what seemed a difficult race for Ferrari (by Paul di Resta), Sebastian Vettel stated the following: "I don't know. The first stint was really. I really struggled to initally get the tyres to work. They were too cold."
ADVERTISEMENT
Article continues below this ad
The four-time world champion Sebastian Vettel, who grabbed a fighting third, and thus, got a second podium in as many races went on to add the following:
Then they were damaged. By the time, they were hot, they were damaged. After that, I was looking for a decent stint from the medium tyres. At least, we were able to keep an eye on Max behind and put up some pace on Mercedes on the medium tyres and keep the Red Bull behind."
ADVERTISEMENT
Article continues below this ad
These weren't words that would inspire a lot of confidence from someone like Sebastian Vettel, clearly one of the most experienced men on the grid. Nor were these words that oozed confidence from a multiple world champion.
These are, indeed, confessions from a man who seems embattled and a bit ruffled up by the fourth-successive 1-2 delivered by the team who he's clearly struggling to beat: Mercedes.
Sebastian Vettel may have held onto a decent P3 in the end and would've found to his comfort a look at Baku and the ensuing celebrations from the podium, but he knew it well that a lot is left to be accomplished by his team.
ADVERTISEMENT
Article continues below this ad
What Ferrari did in the Grand Prix is anyone's call. One wonders, what might've been had Sebastian Vettel, the man ahead of Leclerc, not been pitted earlier and Leclerc would've been brought in, instead of the Monegasque driver getting a longer stint?
Even as Ferrari's Sebastian Vettel found himself among the top-three, that his team has its task cut out is in no way, a miscalculation.
Isn't it?
ADVERTISEMENT
Article continues below this ad
4 races have been done and Ferrari haven't managed to occupy the top step of the podium even once. The winning feeling is about as distant from them as is Kimi Raikkonen from breaking into the top-five on the grid: not improbable, but somewhere elusive.
With 17 races ahead and the European leg of the circuit to begin, can the remainder of the races bring about a change in the waning fortunes of the Scuderia? Well, Sebastian Vettel would want nothing better than that- right? What do you think, Mr Mattia Binotto?