Sebastian Vettel's Funniest Moments
Published 12/12/2017, 11:07 AM EST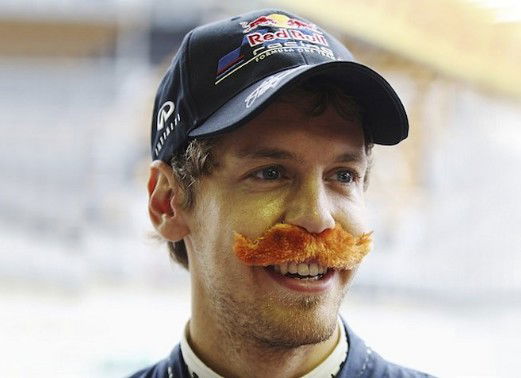 Four time world champion Sebastian Vettel is currently relishing his spell with Ferrari along with the Finnish iceman, Kimi Raikkonen. The German is considered to be one of the most hilarious people on and off the track. The German is adored world wide by the Formula One fanatics because of his jolly nature and a light hearted approach when the going gets tough. He is not only loved by millions of fans for his driving and competitiveness on the track, but also for showing some sense of humour. Don't we all love a little laughter and chuckle in every sport? EssentiallySports brings you 5 of Sebastian Vettel's funniest moments.
ADVERTISEMENT
Article continues below this ad
Sebastian Vettel's funniest moments
5. Vettel singing for his race engineer 
ADVERTISEMENT
Article continues below this ad
https://www.youtube.com/watch?v=2sjhHC-RDVw
With the World Championship of 2015 already in the hands of Lewis Hamilton, Sebastian Vettel grabbed headlines in an otherwise boring practice session on Friday, in the season ending race at Abu Dhabi.
Showing off his amazing vocal chops as well as his bilingual skills, the German broke into an Italian rendition of Happy Birthday for his race engineer.
"I think I forgot something this morning," Vettel joked on team radio before launching into what must be said was a quite lovely version of the song.
Casually singing whilst going around corners in 200+ km/h. Not bad, Seb!
4. Vettel mocking Rosberg

After Mercedes ensured another 1-2 in the 2015 season opener at Albert Park, Melbourne, the post race conference ensured that reporters got some amusement in an otherwise boring Grand Prix. Lewis Hamilton led the entire race to finish ahead of teammate Rosberg and Sebastian Vettel 34 seconds adrift of Rosberg.
In the post race conference, Rosberg was asked about the large gap between the Mercedes and Ferrari to which he replied that he would love some competition.
At that point, Vettel piped up from the other side of Lewis Hamilton. The exchange went as follows:
Vettel: "Be honest, do you really hope so!? [Laughs] Seriously? Seriously, they finished 30 seconds ahead of us and you hope that's it going to be closer. So you hope you slow down, is that what you're saying?"
Rosberg: "I hope you can give us a challenge because it's important for the sport and for the fans and I do think about the show. Half of me, or a part of me, thinks about the show because I want to give people a great time watching or on the track. So if you do come a bit closer, that would be awesome.
Vettel: "That's fine. My first suggestion, if you don't mind, could be that your garage becomes public for Malaysia and everyone can have a look. Is that what you're suggesting? No, I'm joking."
Rosberg: "You can come if you want. We can invite you."
Vettel: "Thank you for the invite, I'll come. Engineer's room? Debrief, I'll be there."
Vettel also poked fun at how the two Mercedes drivers don't get along and suggested that he and his teammate, Kimi Raikkonen, have great respect and admiration for one-another.This was one of Vettel's funniest moments.  
3.  Vettel on Top Gear
Vettel's first appearance on the hit TV series of BBC, 'Top Gear',  showed the world his funny and humble side.
While explaining one of Adrian Newey's stories, Vettel decided to do the impression of 1992 World Champion Nigel Mansell.
A comedy career awaits Vettel after retirement!
2. Vettel again at his comical best
Vettel toyed multiple times with both the Mercedes drivers in the 2015 season.
After Mercedes qualified on another 1-2 for the season ahead of the race at the Mexican Grand Prix, Vettel joked if the Mercedes teammates could take out each other like they did in the 2014 Belgian Grand Prix.
Also, Vettel teased Hamilton into embarrassment when the Sochi grid girls decided to join them in the post-race conference. 
1. Vettel imitates Kimi
The 2010 Formula One World Champion was being awarded International Racing Driver of the Year trophy by broadcaster Steve Rider in 2011.
He was asked about the return of former Ferrari man Kimi Raikkonen to the sport and went on to do an impression of the Finn. it was one of Vettel's funniest moments.
ADVERTISEMENT
Article continues below this ad
https://www.youtube.com/watch?v=97B8EcPNBZ0
ADVERTISEMENT
Article continues below this ad
Also after winning the Abu Dhabi Grand Prix in 2013 for his 4th consecutive world championship, Vettel decided to perform doughnuts on the track in celebration. After being warned for doing so by his race engineer, Vettel responded by mimicking Raikkonen's famous "leave me alone, I know what to do" message from 2012. He got an equally hilarious reply from Red Bull Racing Team Principal Christian Horner who joked "you can pay for that one" after Vettel was fined £21,000 for performing a similar celebration in India.
Just Vettel things we suppose!