'Seeing Three Rims': What Happened to LeBron James' Eyes During Lakers vs Warriors Play-In Game?
Published 05/20/2021, 1:27 AM EDT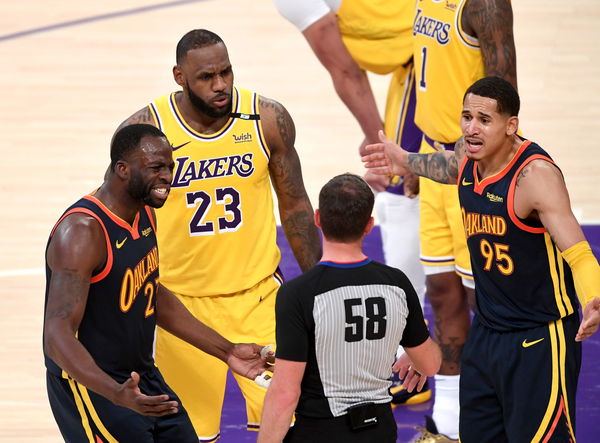 ---
---
The Lakers just defeated the Warriors in a hotly contested play-in game. LeBron James and company will now travel to Phoenix for their first-round series against the Suns.
ADVERTISEMENT
Article continues below this ad
Notably, the Lakers had a poor start to the game and were down by 13 at halftime. However, LeBron James and Anthony Davis helped the team rally and led the Lakers to an incredible comeback. But it almost didn't happen, after Draymond Green committed a hard foul on LeBron, connecting with his face.
LeBron James has vision compromised
ADVERTISEMENT
Article continues below this ad
During the fourth quarter, the Lakers and Warriors were exchanging buckets and leads. With two minutes left in the game, LeBron James made a play with Alex Caruso to go to the rim.
However, Draymond Green intercepted and made inadvertent contact with James' face, especially his eyes. James was visibly shaken up, requiring treatment on his eyes before going to the line for free throws.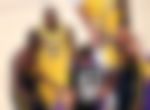 Some Lakers fans were upset that Green didn't get called for a flagrant foul after that play. But James was focused on the game.
He went to the line and made a game-tying free throw. He missed his second free-throw, but given the damage to his eyes, that is understandable.
James played out the closing two minutes of the game despite having his vision hampered. What came next was truly unbelievable.
James iced the game to move the Lakers to the playoffs
With less than a minute left to play, the Lakers were trying to go up on the Warriors as the game was tied 100-100. As the shot clock expired for the last time, James got the ball way outside the arc and made an incredible three-pointer that proved to be the game-winner.
The Warriors advanced the ball before calling a timeout. With two seconds left, they inbounded the ball but turned it over as the buzzer sounded. After the game, James said he felt like he was seeing three rims after the foul.
ADVERTISEMENT
Article continues below this ad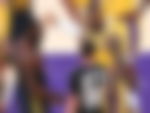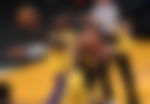 Now, the Los Angeles Lakers will face a major challenge in their first-round series. They take on the Phoenix Suns, who hold the second seed in the Western Conference.
ADVERTISEMENT
Article continues below this ad
Chris Paul and Devin Booker formed one of the best tandems in the NBA this season, with Paul playing at an MVP level. If the Lakers want to get past the Suns, they will need James and Anthony Davis, along with the rest of the players to play incredible basketball.