Sensational Jagielka strike seals draw for Everton
Published 09/28/2014, 10:45 AM EDT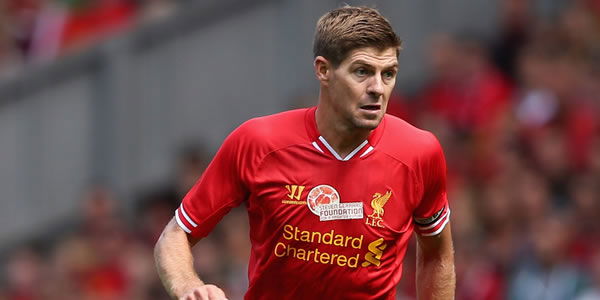 ---
---
Both Merseyside Captains were off the mark today with each scoring spectacular goals in a game that saw many chances go to waste. Steven Gerrard was the first to enter the score sheet after curling a well-positioned free kick over the wall and into the net, even though Howard managed to get both hands on the ball. The Reds then withdrew to a slightly more defensive position to see the game off. It looked like this was going to be another Stevie G classic game winner.
ADVERTISEMENT
Article continues below this ad
But an absolute belter of a goal from Everton captain Phil Jagielka that came at stoppage time was enough to seal the game with a 1-1 draw. And there was nothing one could blame the Liverpool defence for; Jagielka's strike was absolutely spectacular and Mignolet could've done nothing about it.
There were a lot of positives to take from Liverpool's game though. For one, Gerrard has definitely not lost his legs, or as his critics would like to think. He was distributing the ball nicely over the flanks and did well defensively while dropping back to support the two centre backs. A stunning free-kick that made his Merseyside derby goal count reach nine, the highest by any Liverpool player, acted as icing to the cake.
ADVERTISEMENT
Article continues below this ad
Alberto Moreno looked sharp with some darting runs down the flanks. The same can be said for fellow compatriot Javier Manquillo. Lovren and Skrtel presented to be a much better pairing than what was their last venture together.
The newly appointed vice captain, Jordan Henderson also had a great game as usual and created a lot of chances with his incisive passes. But the lone striker Balotelli still couldn't get off the mark today and seems to have run out of all luck, even though he got some clear cut goal scoring chances today.
ADVERTISEMENT
Article continues below this ad
An excellent cross came from Sterling into Balotelli's path but the Italian hit the post. Another very close chance came when a cross managed to just glance off Balotelli's head, which could've easily led to a goal.
Young Markovic was mostly unimpressive today; His presence wasn't felt throughout the game and he did little to affect the proceedings. On the contrary, his replacement Coutinho was particularly sharp. The moment Coutinho came on, Liverpool's tempo dramatically increased and his through balls split the defenses of Everton.
One performance that deserves most praise was of Adam Lallana's. The former Saints captain was spectacular today; his decisive passing, impressive work rate, forward runs and strong pressing were exactly the reasons why Brendan Rodgers bought him. A versatile and technically gifted player, he was all over the pitch today. Chasing lost causes and starting counter attacks, Rodgers may have found himself the type of player that Suarez was.
ADVERTISEMENT
Article continues below this ad
Liverpool will be definitely happy with how they put up today. Barring that extremely inopportune Jagielka strike, the Reds created a lot of chances today and were definitely the better side throughout. With Sturridge returning to the line-up next weekend, Liverpool will regain that attacking threat they need high up the pitch and start converting all these chances into goals.